Fall is my favorite season, I love everything comfy, colorful and of course who doesn't love boot weather! As we start to think about lesson planning, open house nights, and classroom decor, many of us are also thinking about ways to update our teacher wardrobe on a budget. Amazon is the perfect place to find some new fall pieces without breaking the bank as we head into this wonderful season! Check out these teacher fashion trends for fall!
If you would like to see all my Teacher Lifestyle Favorites visit and follow my Amazon Shop, I am always adding my go to favorites!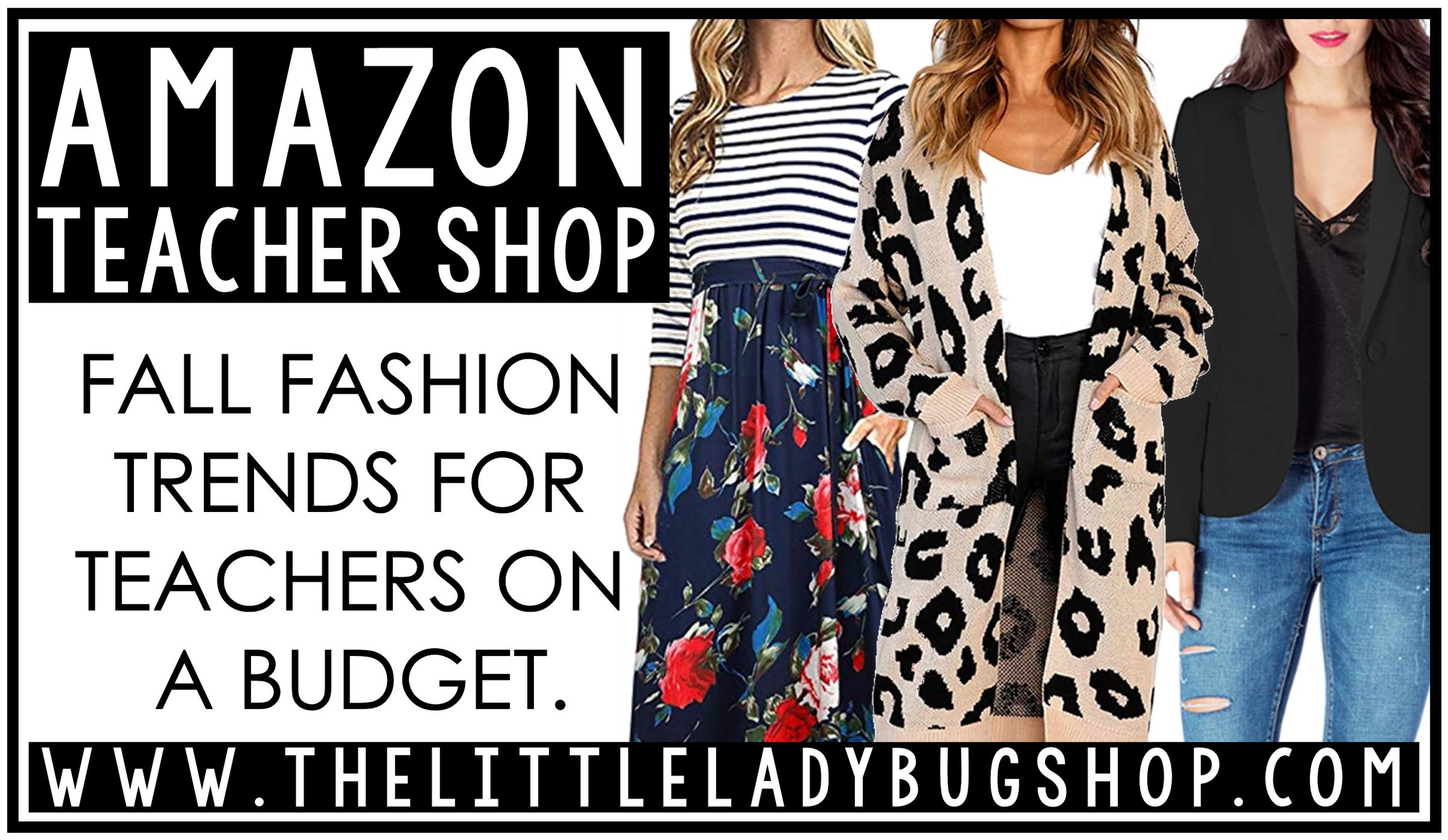 This post may contain affiliate links for your convenience. View our full disclosure policy here.

Fall Amazon Teacher Outfits on a Budget: Blazers and Jackets
Depending on when you return to school and whether your rooms are air conditioned or not, blazers and jackets can be terrific layering pieces as we head back. Plus, blazers and jackets can help extend your summer tops into the classroom in the fall. A basic black blazer can easily transition into the classroom over a sleeveless top. Another option is an on-trend denim jacket which can go over any top, even a tee shirt, and instantly pull your outfit together. (Try out these adorable teacher tees!) An olive utility jacket is a wardrobe basic that you can grab and toss on for chilly mornings or an early recess duty.
Fall Amazon Teacher Outfits on a Budget: Cardigans/Sweaters
Sweaters are a teacher staple! I keep one at school so I always have something to toss on if my room is cold or if I have to pop outside for a duty. Long sweaters are all over the fashion blogs for this fall and a beautiful animal print would be perfect as we head back. Plus, it has pockets for keys and badges! Long cardigans (again with pockets!) look great in black or a fun fall color like mustard yellow or wine. I also love a lightweight v-neck. It works with just a cami underneath until the temperatures slide toward winter and then it works with a button down layered underneath.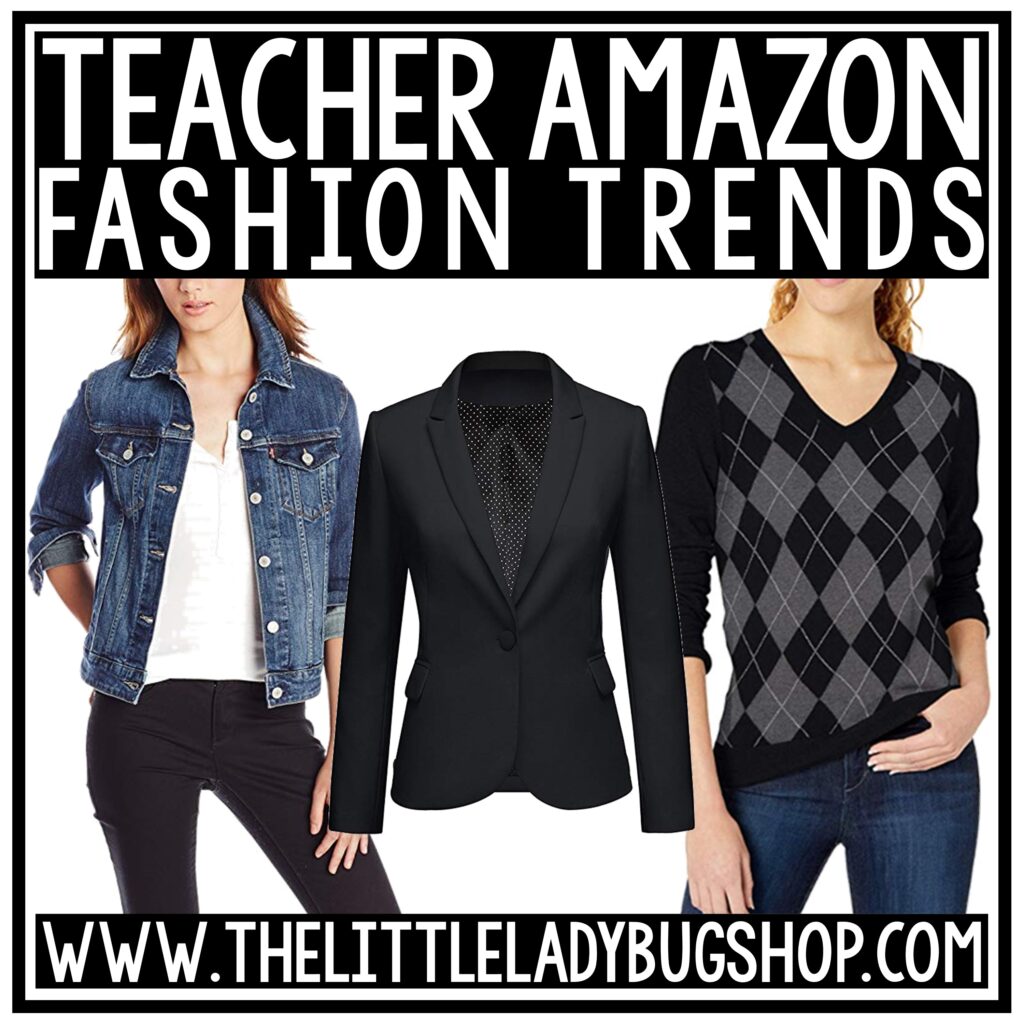 Fall Amazon Teacher Outfits on a Budget: Dresses
Dresses are such an easy way to update your fall wardrobe on a budget. Dresses are so easy to toss on in the morning and you always look pulled together. One of my favorite, versatile dresses is a wrap dress. They are so flattering and classic which makes them perfect for Open House or Meet the Teacher night. A flowy polka dot dress is also a big hit for the fall. It looks adorable on its own or you can pair it with a black blazer or denim jacket to vary the look. Plus, pockets! I also love maxi dresses in the classroom. You can work with your students on the floor or hop up on a desk to hang something up if you need to and don't have to worry about your outfit. I love a mixed pattern maxi dress that is comfortable and fun. It always makes me feel like I put in an extra effort to get ready when really it took under five minutes to pick my outfit.
Fall Amazon Teacher Outfits on a Budget: Shoes/Bags
As my summer feet have to adjust to structured shoes again. You'll love wearing adorable flats into fall with capri pants or dresses. These flats have a cute crisscross detail and come in so many colors and patterns that you can easily add some pop to your outfits. Ankle booties are back for this fall and look adorable with ankle pants as well as dresses and tights. Also, these industrial boots are a must have this year! Ooooohhh  and I grabbed these boots quickly!
A new school year also means a new teacher bag. Tote bags are so functional with tons of pockets and big enough to hold student papers and a laptop. Did you grab a new new lunch bag this school year? This is something I forget this and find one usually around this time of the year I love. I try to pack lunch and snacks daily, especially if I have a late lunch. I love this lunch tote that has a separate pocket for my phone and keys!
Celebrate the newness of back to school and updating your own wardrobe with a few new pieces to start the year. These teacher fashion trends for fall are the ones that you can continue to work into your wardrobe all year long. Have a great first day back!
Make sure to Pin and Save this Post for Future Reference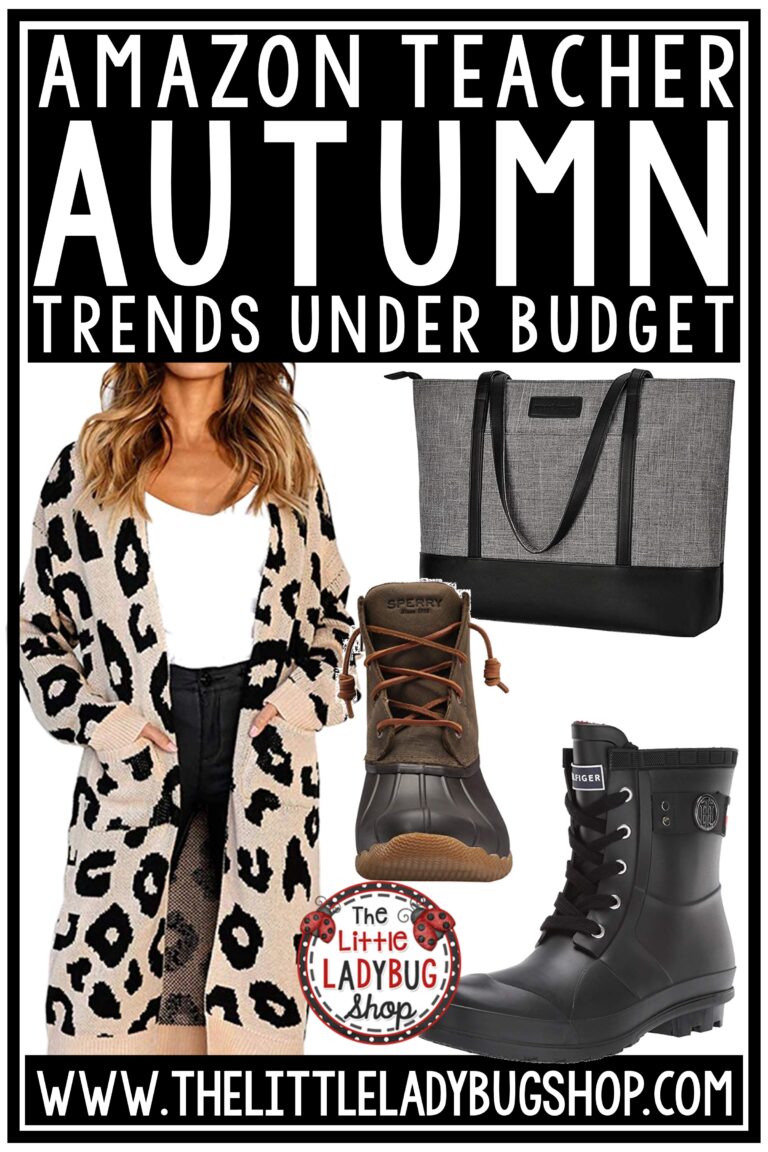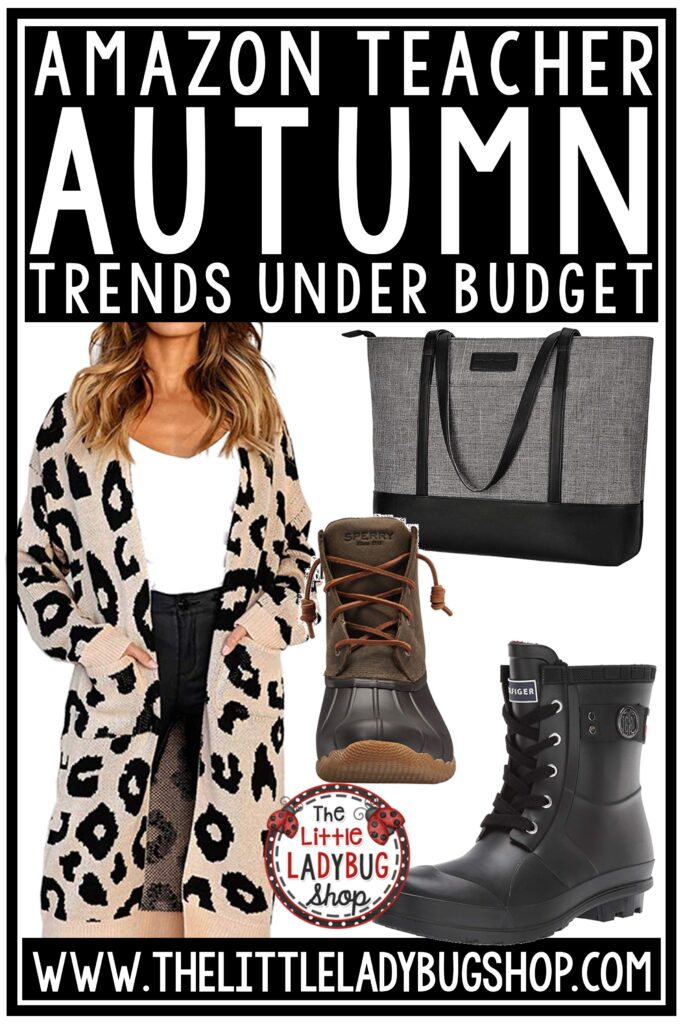 *Affiliate Links: "The Little Ladybug Shop is a participant in the Amazon Services LLC Associates Program, an affiliate advertising program designed to provide a means for sites to earn advertising fees by advertising and linking to Amazon." (source: Section 5)