Who always has that feeling that  it's time to stock your shelves with independent texts as well as read alouds? Well, I know I always feel like that as a teacher, and I wonder if I will ever have enough? Our favorite Engaging Read Alouds  for Upper Elementary involve strong characters to help demonstrate voice.
Check out these novel and chapter books you'll love to share with your students.

Engaging book activity Ideas for Read Alouds or Book Clubs
I love using these books for book club, literature circles as a final project, or to place in their reading notebooks. Over the years I have noticed these are my students favorites! My best advice is to grab these books during Scholastic sales, or at Half Price Books. Over the years I have so many collections of these books perfect for using for read alouds or book clubs!
You can take a peek here at all my Book Review resources and the books are below.
Wonder Book Review (in print and digital)
Holes Book Review Flip Book
One and Only Ivan
Stone Fox
The Miraculous Journey of Edward Tulane
My top Engaging Read Alouds for Upper Elementary
Wonder by R.J. Palacio
Wonder is a perfect way to teach your students multiple perspectives and point of view as the chapters are all told in first person through different character's narration. The voice is strong with each of the main characters, especially the protagonist, Auggie, who teaches readers about empathy and kindness.
The Miraculous Journey of Edward Tulane by Kate DiCamillo
Told in third person, this story gives voice to Edward Tulane, a china rabbit, who loses his way and takes an extraordinary journey. Read this aloud with your students and take the opportunity to talk about loneliness, friendship, and finding a way to belong.
Stone Fox by John Reynolds Gardiner
Little Willy, a young man who loves nothing more than his grandfather, his grandfather's farm, and his dog attempts to win the National Dogsled Race in this courageous story. In the process, he meets the title character, Stone Fox, who has never lost a race. This third person narrative is a great way to teach character development through the journey of the protagonist, Little Willy.
Holes by Louis Sachar
Stanley Yelnats is a character as interesting as his palindrome name and so are his fellow members of Camp Green Lake, a detention center he is sent to for a minor "crime". When he uncovers a mystery at the camp, your students will learn a lot about Stanley, the "warden" of the camp, and Stanley's bunkmates in this novel that will help your students learn about plot and characterization.
The Last Fifth Grade of Emerson Elementary by Laura Shovan
Ms. Hill's fifth grade class is about to lose their beloved elementary school. To hold onto the memories, each of the students writes a poem to be included in a time capsule. Which forms this verse novel. A great first back to school read in poetic form, this sweet story will teach your kids about friendships and appreciating what you have.
When We Were Very Young by A.A. Milne
An oldie but a favorite, this collection of "Winnie the Pooh" poems is appropriate for upper elementary through its whimsical storytelling and character development. I love using poetry books as back to school reads because they're easy to divide and read for short periods of time. They're also an excellent way to introduce poetic elements and form!
Whether you are reading these gems to your class or encouraging your students to read these novels or poetry books on their own, these fantastic Chapter Books for Upper Elementary have strong characters, voice, and will leave your students wanting more! Try a few of these classroom favorites with your young readers.
Make sure to Pin and Save this Post for Future Reference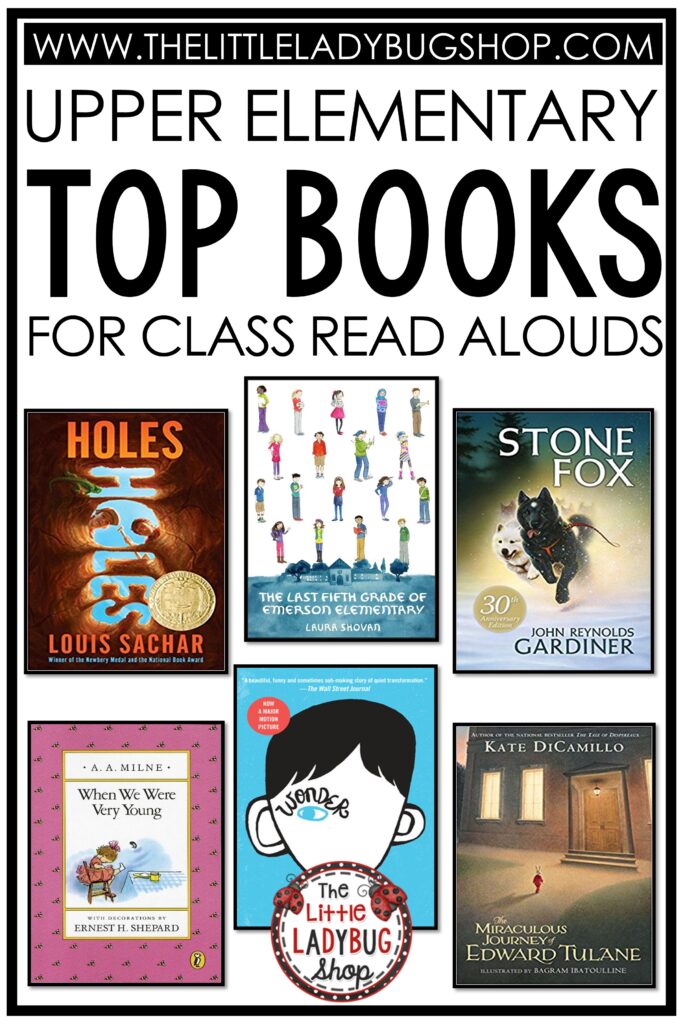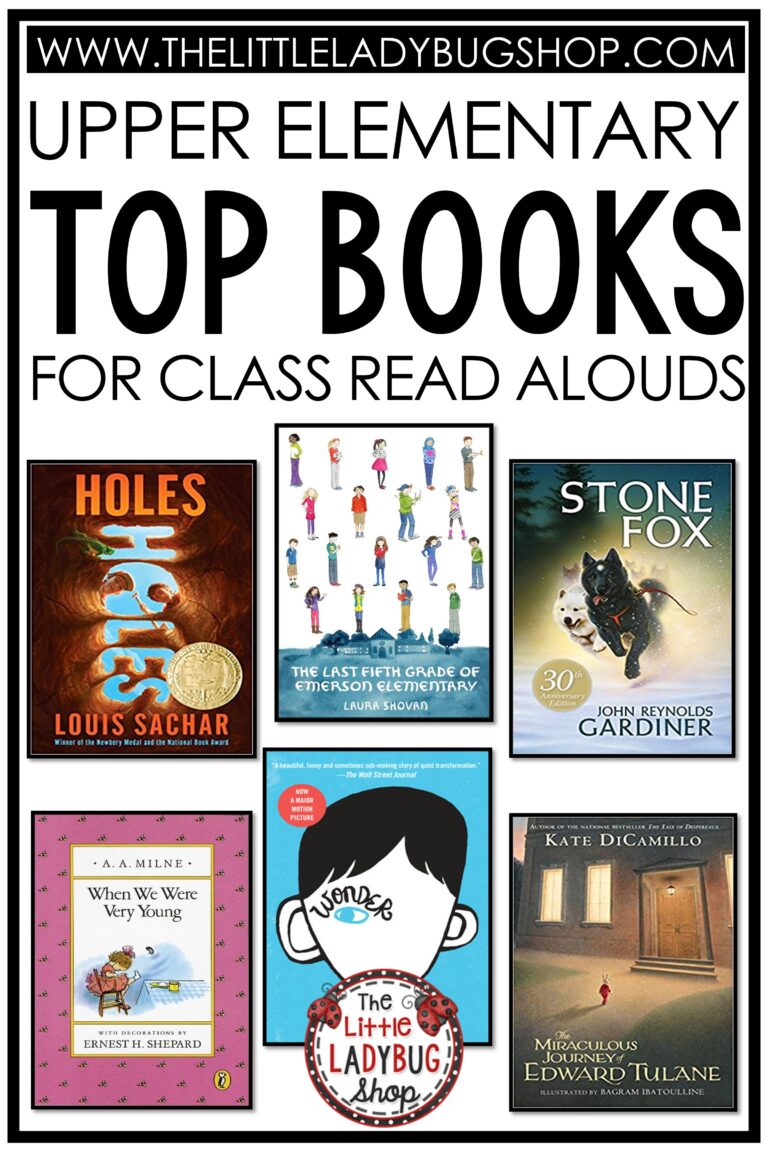 This post may contain affiliate links for your convenience. View our full disclosure policy here.
*Affiliate Links: "The Little Ladybug Shop is a participant in the Amazon Services LLC Associates Program, an affiliate advertising program designed to provide a means for sites to earn advertising fees by advertising and linking to Amazon." (source: Section 5)