Who says jeans and inspirational teacher shirts can't make for the perfect teaching outfit? My favorite day of the school week has always been spirit day or jeans day! So the past two years I have been creating my favorite themed shirts that are both fun and inspirational. You will love wearing your comfy cute jeans with the perfect teacher T-shirt. Today, I wanted to highlight a few teacher favorites for you to add to your teacher tee collection.
My teacher tees are…
I like to give teachers a little information about my teacher t-shirts. All my teacher shirts are hand designed by me, it is a tough process because I love thinking of creative and original designs. So here is a little information you will get when you order from me…
I am always available for questions and concerns before you order. As soon as you order it is created and shipped to print shop. It is usually in your mailbox 7-11 business days!
All shirts are made on demand, we do not stock shirts, they are custom created for you when you place the order.
I use the best t-shirts out there which is the Bella+Canvas 3001 t-shirt. They feel soft and light, with just the right amount of stretch. It's comfortable and the unisex cut is flattering for women. I can't compliment this shirt enough!
I include sizing and color chart in each t-shirt listing.
My top 3 Teacher Shirt Favorites
When I decided to select my top 3 teacher tees it was a bit hard for me, but then I started to think of which ones meant something personal to me. That made the process much easier.
My tee "You will always be my student" is very meaningful to me because I have always said this to my students. It resonated with many teachers because we always feel this way. Part of being a teacher is learning and loving each kid that walks through our classroom doors. So when I created this meme several years ago I knew one day it would become more, and it did. Now we get to wear this t-shirt to show our kids how much we will always love them and how they will always be part of us.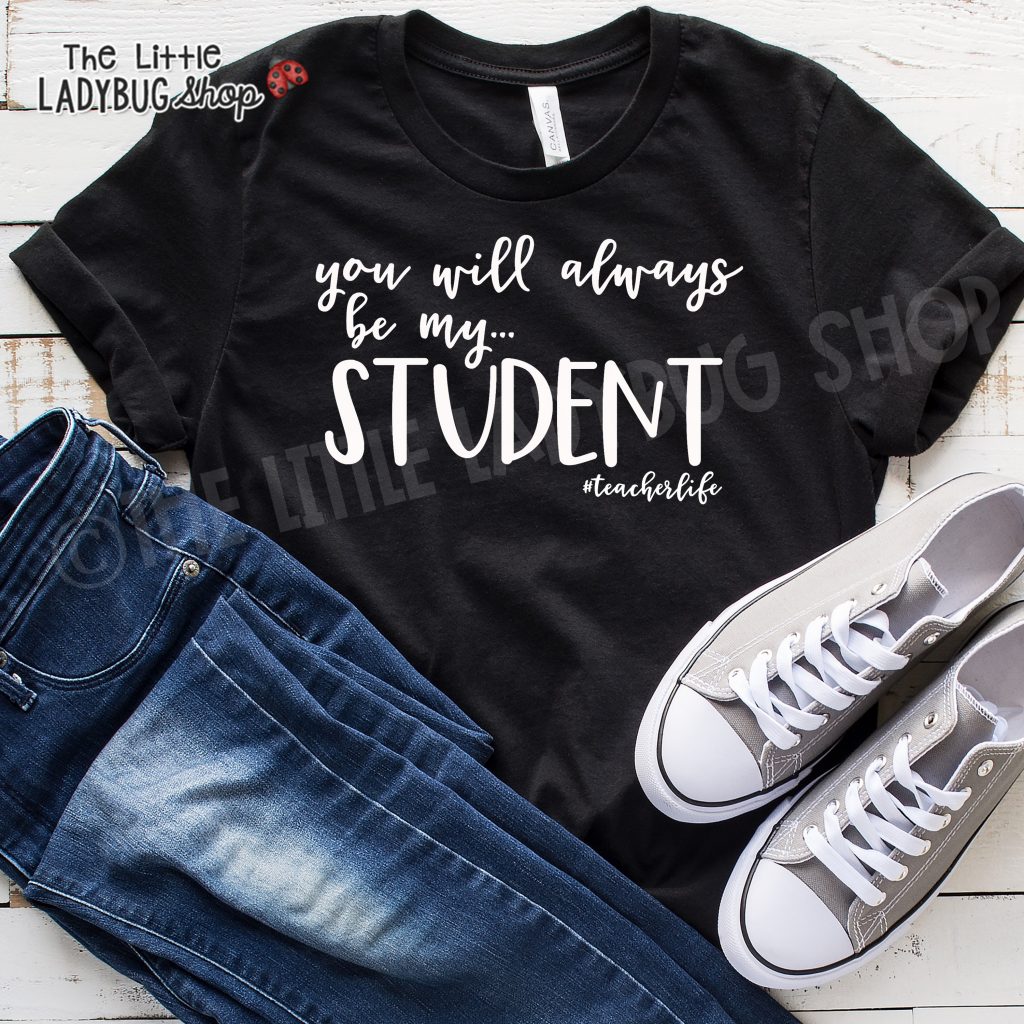 My tee "Planner and Anchor Charts" is such a classic favorite! I have always loved all this and creating this tee was so easy because it is truly speaking to all teachers!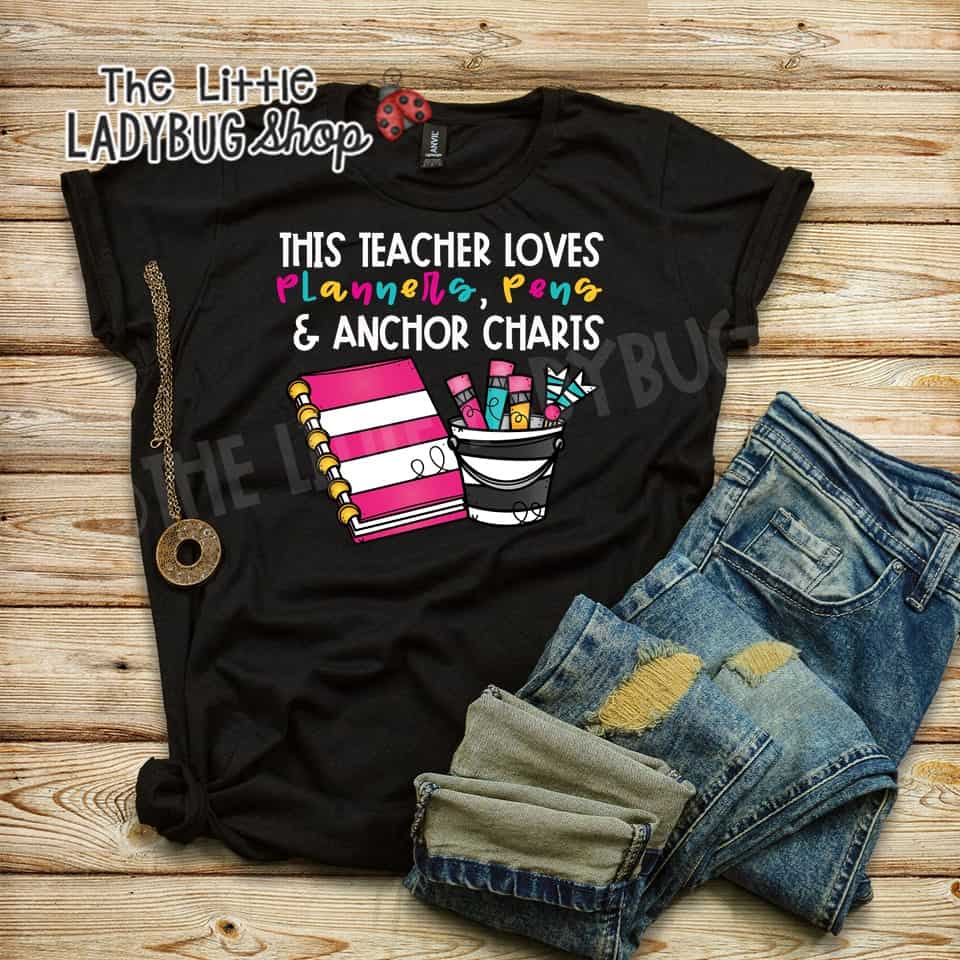 You had me at t-shirts are my favorites, too! Especially my anchor chart tee! I love these because this is something, I always say… "You had me at…!" So this shirt was inevitable to become a fun theme for my shirts!
Popular Themed Teacher Shirts
Taco 'Bout Tees: Some of my favorite teacher tees are themed. The Taco Themed shirts are a huge hit with teachers. Not only are they funny but they absolutely speak to kids. So many teachers have mentioned how their students love these tees. There are fun and perfect for your school spirit day. I love seeing teacher teams sport the Taco' Bout Teacher Tee
Nacho Average Teacher & Teacher Assistant Tees: These tees are so fun and I love how the punny saying has caught on with teachers everywhere!
End of Year Teacher Tee: This is a fun way to celebrate the amazing school year!
School Theme Teacher Shirts
Growth Mindset: This brain power tee is absolutely fun and teachers everywhere love wearing it encouraging their students mindset!
Stem and Steam Tees: I created these fun tees for my teacher friends. STEM and STEAM are really a huge part of our education system and teachers love showing kids how powerful their learning can be.
Math Teacher Tee: This teacher tee was actually a special request from a Texas friend, Jennifer to wear to her consulting workshops here in Texas. She is a very special math teacher consultant and having her reach out to request this design was very special!
Reading & Writing Teacher Tee: I love all my writing and reading themed shirts and cannot wait to add more as this is my specialization. The reading tee is so me, because I am a bit of a picture book hoarder. Do you collect books like crazy, too?
As always, I hope these teacher tees will find a special place in your closet, if you are interested in team tees message me for special pricing! And make sure to follow my shop as I am always releasing new teacher tees!
Make sure to Pin and Save this Post for Future Reference

This post may contain affiliate links for your convenience. View our full disclosure policy here.