"I Never Start Thinking of School or Start Planning During the Summer," Said No Teacher Ever. We are almost there… this is the time where we become anxious and excited for the summer months to recharge and relax. I start seeing the summer countdowns in classrooms and all across social media. Today, I want to share some Teacher Tips to Reignite for Back to School. I love the idea that the excitement of summer is in the air. You might be fibbing if you say you're not a tiny bit excited! However, deep down while you are counting down to summer, you are also planning your next school year in your head. Some of you are reflecting on what worked and what you want to try next year, some are planning how your classroom will look. Regardless of your mindset, school is always on the mind.

Teacher Tips to Reignite and Refuel over the Summer
Before you can start focusing on the next school year you need to take time for yourself. You need time to refuel and re-energize. Believe me, I understand when we give it our all and there is nothing left. Like the saying says: You cannot pour from any empty cup. These are a few things I do for my mental and self health. I would love to hear what things work for you.
Summer Vacation: My family and I go away for a summer vacation every single summer. I am not sure if you are aware but many hotels have teacher discounts and it is a great way to save money and really enjoy your time off. When the budget is tight we do weekend road trips and drive around our state exploring. You will really unwind taking mini vacations and making special memories!
Reorganize and Declutter: This might sound like a chore but during the summer months I find time to do things around my house that I have put off. This really helps me so that it is one less thing I have to worry about during the busy school year.
Exercise: I make it a priority to work out and stick to it during the summer. I truly have no excuse not to work out, so starting a work out routine is something that is important for mind, body and health! You will be excited to see if you stick to it during the summer months you will most likely carry that on through out the school year
Read: Yup, I take time to read. I list below some of my wishlisted books for this summer!
Start Planning: Yup read on to see what I typically do over the summer to make my back to school time a breeze…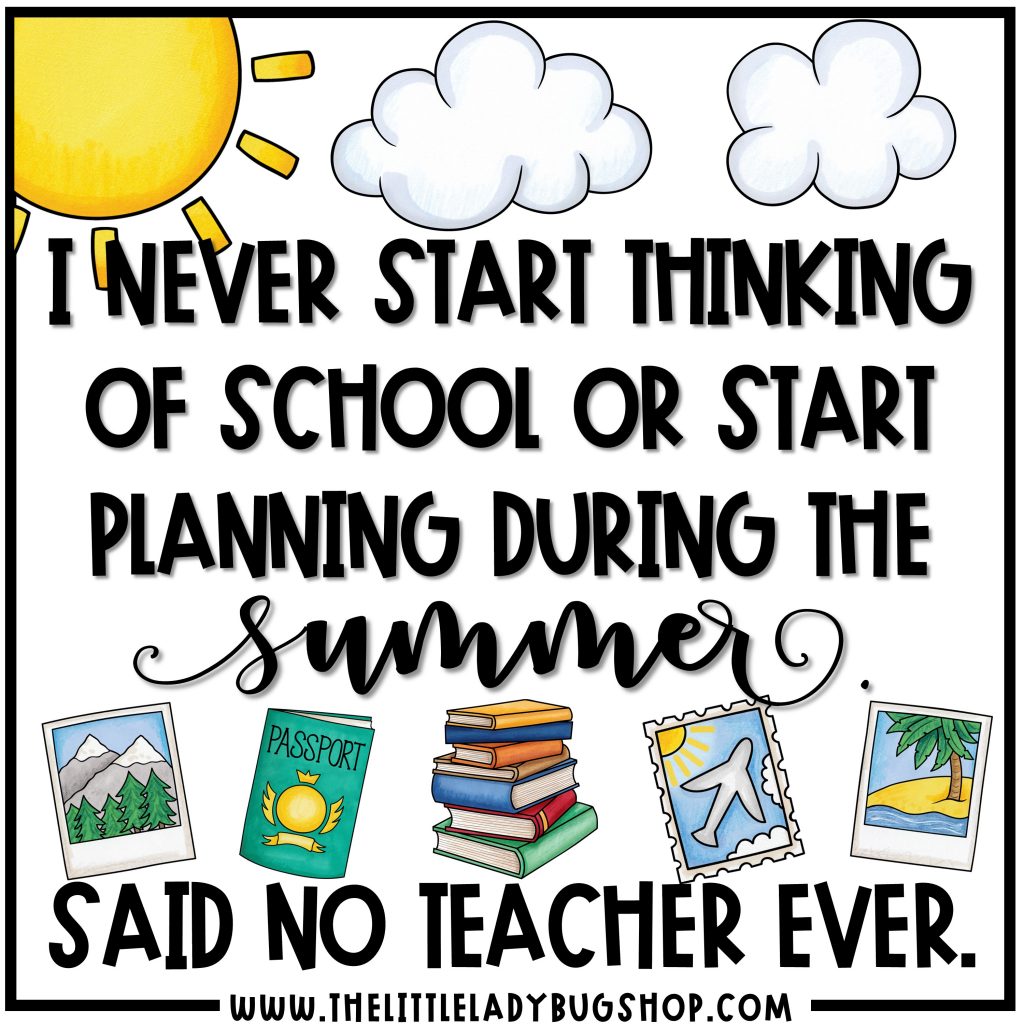 Teacher Tips and Ideas for a New School Year
So after taking some time to really refuel and reignite I start planning.  A few teachers have started emailing me right after spring break requesting custom designs for their classrooms, because they are already planning their themes for the upcoming school year. Typically, I am not a person who can whip together my classroom theme or set up the week we return to our classrooms. During the summer I like to take time to laminate, cut, and plan it all.
Teacher Tips: Popular classroom decor theme ideas
There are so many  DECOR THEME options to choose from and it truly makes it hard to finally decide what will be your theme. I know that me personally I spend more hours in my classroom then anywhere else, so I want to choose a theme that I can go to everyday and feel I am passionate about and love looking at. So take your time and really think what will you enjoy looking at and will it fit your style. Here are a few of my favorites:
Farmhouse / Fixer Upper Theme: This look is very popular now, you cannot go wrong choosing this "Fixer Upper " Inspired Vintage Farmhouse look. This look is actually my favorite this year because it very calming and really works in both lower elementary and upper grade level classrooms.
Nautical Theme:  This theme is very fun and teachers love using it to bring the touches of sailing and nautical into the classroom. At my son's school the theme was nautical for the campus and it was so fun seeing all the classrooms set up with the beachy/ nautical look.
Superhero Theme: If you were to ask students to vote on their absolute favorite classroom decor style Superheroes might be their favorite! They love seeing their colorful and bright superheroes be part of their learning. Teachers truly love using the superhero theme because it truly inspires superb learning!
Emoji Theme: This is of course the #coolteacher theme. When kids walk into the classroom and this theme is theirs, well you know what happens. They think they lucked out and got the cool teacher! Yup, I hear it from hundreds of teachers who use the Emoji Theme Decor set. It speaks for itself, just take a look and you will totally understand!
Other Decor Theme Bundles options can be found HERE.
Professional Books I want to read over the summer to hopefully inspire me and reignite me for the new year: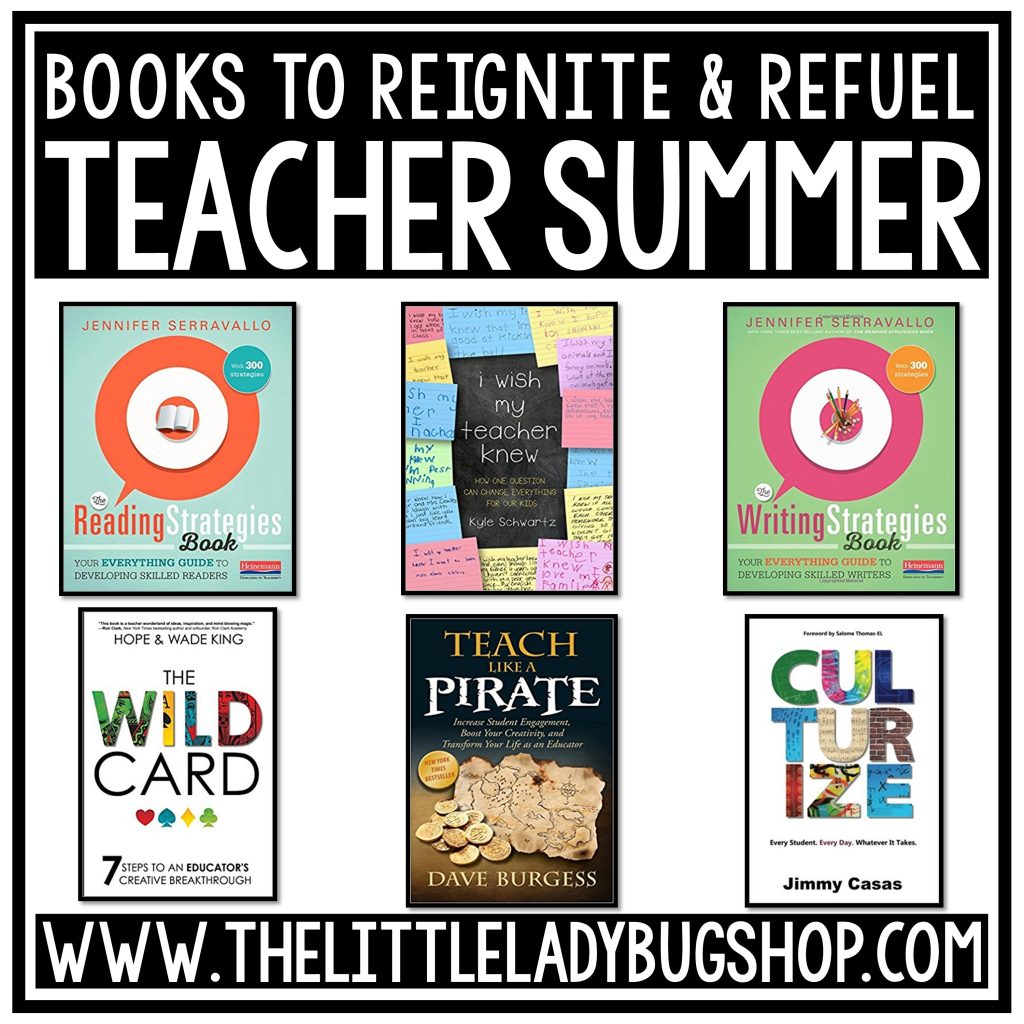 PD courses I am interested in taking: I am focusing on more dyslexia courses to assist me with my struggling learners as this is my focus with my groups. I will be attending some writing courses offered through the Houston area. This summer I will be teaching a few Introduction to Reading and Writing Workshop courses to teachers across the Houston area. What are some PD courses you are taking over the summer?
Reminder…. you must remember to relax and enjoy your time, but when you have some downtime these may come in handy in planning and prepping for your new school year! Some of the resources  listed can be  found in my
 The Little Ladybug Shop .
This post may contain affiliate links for your convenience. View our full disclosure policy here.
*Affiliate Links: "The Little Ladybug Shop is a participant in the Amazon Services LLC Associates Program, an affiliate advertising program designed to provide a means for sites to earn advertising fees by advertising and linking to Amazon." (source: Section 5)