Good writers are first and foremost good readers. Teachers often use mentor texts (or anchor texts) in writing instructions. These pieces of writing are examples of excellent work either from students or published writers. Mentor texts help upper elementary students improve writing in all areas. Here are some ways you can start using mentor texts for writing instruction in your classroom.
Teaching Writing Using Mentor Texts: Start with student samples
Use past student essays or stories to help your current students understand what proficient writing looks like. You don't necessarily have to choose a perfect piece. Remind your students that even though these anchor pieces are prime examples, they are also achievable goals. Choose proficient and advanced examples to help scaffold for student goals. Dissect the essays by focusing on strengths in different areas. For example, you may have a student that had a strong grasp of sentence fluency as they used a variety of sentence lengths, starters, and structures. Share this essay with students that need to see strong examples of sound sentences in their writing. Still others may excel at word choice. Focus on the flowery, imagery-filled language in those texts.
Look for the published "experts"
Pull excerpts from pieces of popular young adult writers. Look to the writing of Patricia Polacco focus on voice or Gary Paulsen to showcase sentence fluency. Encourage students to look for examples of great writing in their own favorite books. Have them share their favorite mentor texts to focus on narrative story structure or look at nonfiction text structures and strong organization in their favorite biographies or secondary sources from the library.
Look for Mentor Text Activities to use with your students
I have always used mentor texts in my classroom and decided to create activities to reinforce what I was teaching. I created this unit to use over the school year to focus on different skills for writing. Here is some details about the unit. You can also purchase it here.
Reinforcing and practicing language skills: Capitalization, Punctuation, Commas In A Series, Word Choice, Voice, Adjectives, Verbs, and More…
25 mentor Sentences/Poems/ Mini excerpts in this packet.
I usually make packets of these for my students to keep in their writing notebooks. However, you can project the larger page with mentor excerpt on SMART BOARD or overhead. You can use as whole group (warm-ups, workshop activity), teacher workshop, independent activity or partner activity.
I have provided the mentor text with a page of activities that can be used, or with the mentor text and the students have to notice things in the excerpt (such as: adjectives, punctuation, and more). Many times we do one together as a class and they do the other independently where I can check their understanding.
I have them use the skills we focus on to strengthen their writing they are currently working on.
Some examples of Mentor text from…

Teaching Writing Using Mentor Texts will Strengthen vocabulary
Teaching mentor texts in connection with writing can help students develop and deepen their vocabulary acquisition. Have students make lists of new words gained from texts that they may choose to use in their own writing. Making digital or paper dictionaries of their own "words of the day" may be remarkably fun for the budding writer. Even students who struggle or become bored with traditional vocabulary memorization activities often enjoy finding new words in context as they read.
Teaching Writing Using Mentor Texts is great for Practicing grammar
In addition to some of the skills mentioned, practice extra grammar skills like dialogue, parts of speech, punctuation, items in a series, and more by looking at mentor texts. Utilize public domain poetry and longer excerpts to save time and money. In fact, I've put together this incredible resource as you see above to help you use mentor texts for writing and grammar. Try it out!
I love using mentor texts for writing with my students. Showcasing anchor texts to help students understand and reach their own writing goals will help them become better readers and writers. How do you use mentor texts in your classroom?
LEARN HOW TO USE MENTOR TEXTS TO TEACH COMPREHENSION STRATEGIES
SAVE THIS POST FOR FUTURE REFERENCE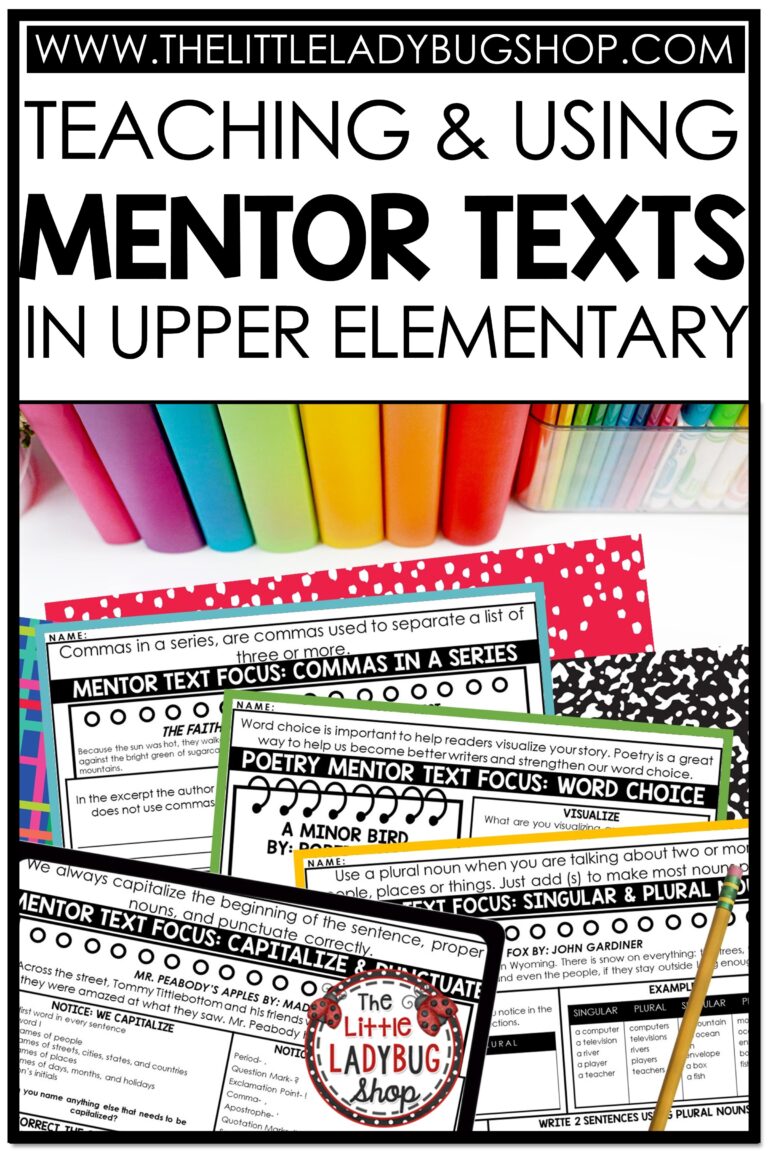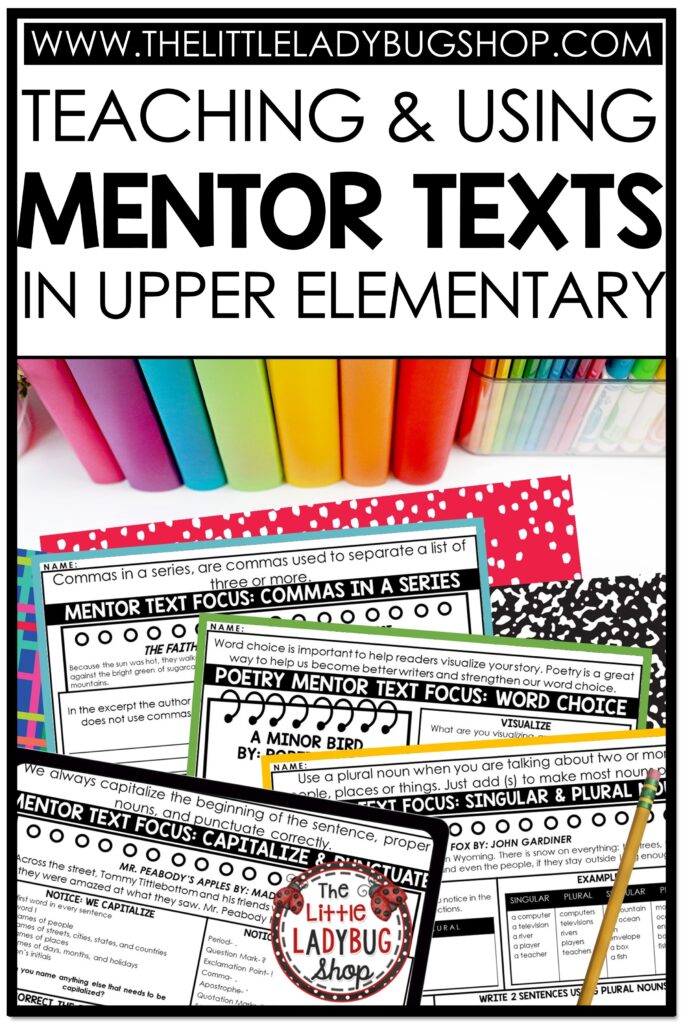 This post may contain affiliate links for your convenience. View our full disclosure policy here.