As an educator, one of the most important lessons you will ever teach is about diversity. Teaching your students about the importance of Celebrating Different Cultures and Diversity in the classroom will help your students tremendously. Did you know that being culturally aware can have a significant affect on your student's success? "Diverse classrooms promote creativity, high level thinking, and collaboration." Our classrooms represent different backgrounds, cultures, ethnicity, language, religion, and physical ability. Being diverse is defined as all the ways we are alike and different. You may be wondering why this is such a significant lesson for children to learn.

Here are some reasons behind the importance of celebrating different cultures in the classroom.
It is important for students to be culturally aware. Learning about other cultures, languages, religions, and holidays aside from their own will help children learn that their classmates may be very different from them. Being culturally aware is a wonderful way to promote inclusion for all in your classroom.
It is important for students to appreciate cultural differences. In addition to being aware of the fact that their peers may be different, it's also important for kids to learn about some of the unique and amazing things that come from other cultures and ways of life.
It is important for students to overcome stereotypes. Celebrating different cultures will bring to light new thinking and understanding. Students need to understand there is never a right or wrong way- what is ok is that we are all different and we learn and grow together. This type of learning will encourage students to be creative thinkers.
Activities to promote celebrating diversity and celebrating different cultures
Did you know that celebrating culture, seasons, diversity and holidays in your classroom will improve student engagement and participation? Here a few easy ways to help bring all these things to your classroom!
Create interactive bulletin boards that you can swap out seasonally: Here are my favorite seasonal bulletin boards that you can switch out seasonally.

Seasons Decor Posters: which includes spring, fall, winter, back to school
Leaders Teach-Go Pennants: You will love this Leaders Biography Report Template Bundle with the original Teach-Go Pennants®! Hispanic History Month Teach-Go Pennants®, United States Presidents Teach-Go Pennants®, Influential Black Leaders Research Teach-Go Pennants®, Famous Author's Teach-Go Pennants®, Influential Women Teach-Go Pennants®, Famous Inventors and Scientist Teach-Go Pennants®, Asian American Pacific Islander Heritage Leaders
Nonfiction Reading Passages: celebrating different leaders of history and today!

Projects and Research: Creating projects that promote different holidays, religion, culture. We used these activities to learn more about each culture and celebrate them. During the holiday season is a great time to research different Holidays Around the World, and Celebrations.
Around the World Festivals and celebrations: Having culture fairs will involve the community and show the students that each and every culture is important. Students can dress up in their culture's attire, food from each culture is brought, music and other customs are represented.
Leaders Teach-Go Pennants (Influential Women, Influential Hispanic Leaders and Influential Black Leaders and More)
Books and Ideas to celebrate diversity and different cultures
Reading Books About Diversity:  Have a display area of seasonal, holiday, and diverse books to represent students in your classroom. I have been highlighting some of my favorite books on my IG page and you can also find them all here on my Amazon Favorites List.
Reading books allows the voice of the culture to be heard and also you are able to show pictures and images from the different cultures.  I would love to hear some of your favorite books that you have on display now.
Express, Show Interest and Grow together
Allow students to share: Student love to be the experts and allowing them to share and feel excited to share will bring a positive climate to your classroom. Many times, even the shyest students will want to share with their classmates about their culture because they are experts and feel proud of it.
As a teacher it is important to communicate an interest in your student's culture. You can provide student surveys to gather information. However, an approach that many teachers take are talking to students one on one and learning more about the student. Building that relationship will have a positive long-lasting effect on both the student and yourself. Note: An important part of this is understanding and pronouncing student's diverse names correctly.
These are just some of the reasons why it's so important to celebrate different cultures in the classroom. It helps build tolerance, curiosity and respect for others. The more students are aware of other cultures, the more able they will be to recognize the beauty of diversity!
These activities are wonderful for helping with celebrating different cultures
Make sure to grab the Diversity and Culture Writing Poster today Here!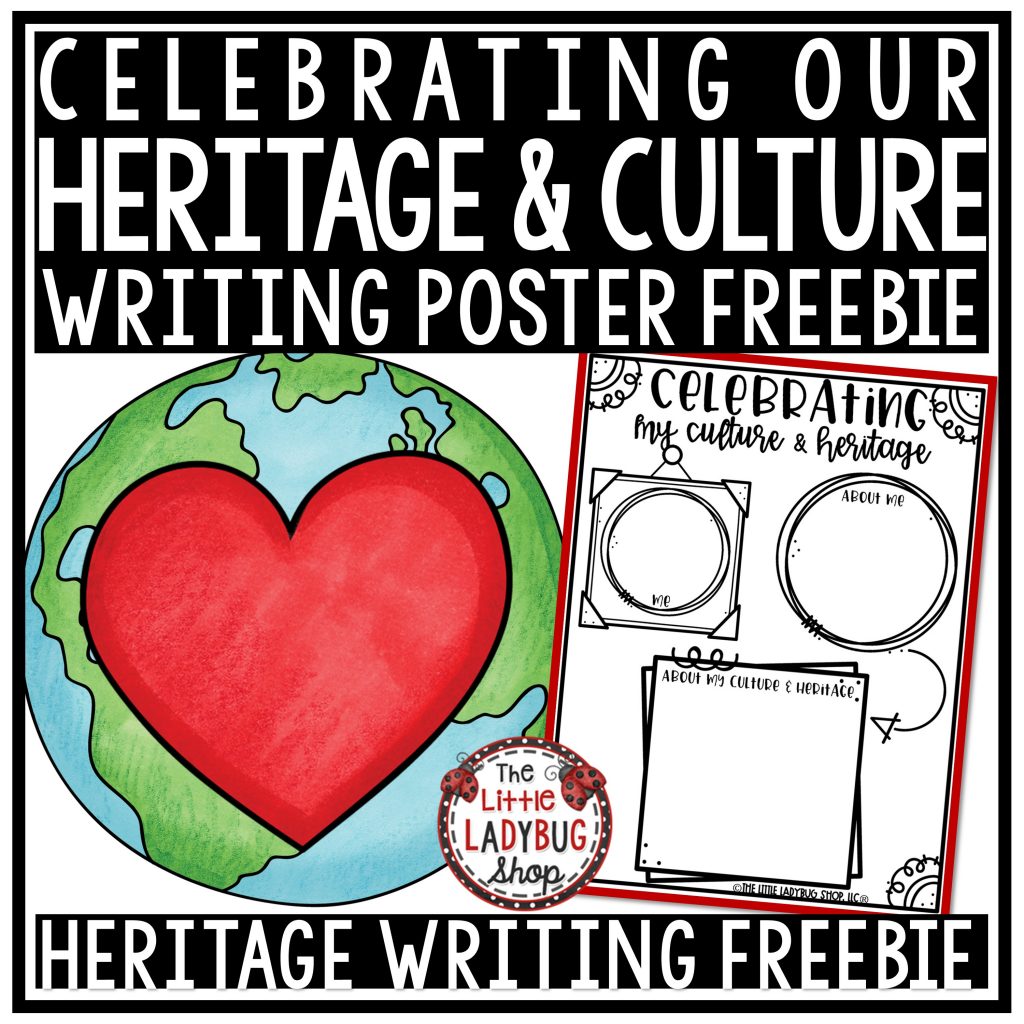 MAKE SURE TO PIN AND SAVE THIS POST FOR FUTURE REFERENCE

This post may contain affiliate links for your convenience. View our full disclosure policy here.
*Affiliate Links: "The Little Ladybug Shop is a participant in the Amazon Services LLC Associates Program, an affiliate advertising program designed to provide a means for sites to earn advertising fees by advertising and linking to Amazon." (source: Section 5)