Teaching writing is a skill that may be difficult to many, so I love sharing some tips that I use and students love when learning the writing process. As a student I struggled and never had confidence to express myself in writing. As a teacher I was nervous the first year I taught writing, but noticed I was good at it. In my opinion I believe I am good at teaching writing is because I understand what it feels like to not have confidence as a writer. I want to share some easy tips that will help you getting started and teaching students the writing process.

What is your goal when teaching writing? Are you wanting your students to learn how to write: Narrative, Expository, Opinion Writing. 
Materials I use to get started on the Writing Process:
Getting Started:
Teaching Writing Lesson:
I always begin my Writing Instruction with reading a mentor text that I feel is strong in the area we are focusing on. I have created many mentor lessons that help me create this. My favorites are picture books that are quick and easy to pop open and use. However, I have used many novels to demonstrate strong writing skills to my students. This should be purposeful and short. You should be able to demonstrate the objective beforehand and then afterwards you have a TURN and TALK to monitor whether they understand. Teacher monitors discussions.
Model the SKILL of day/ WEEK. I typically use anchor charts to model. Remember Model, Model, Model is so important! Even if the students have the skill down I would model- show example, talk it out, and answer questions!
Allow students to return to writing area to focus on skill for the day:  coming up with topic ideas, introductions, body of story, ending, revising, editing, or publishing.
The teacher is constantly monitoring and discussing with students when they are working on their writing.
The teacher may pull small groups during this time to help students that are in need, or to revise and edit.
IMPORTANT REMINDER:
As students are writing, it is important to remember that students will write at different time frames. Some students might be ready to publish while others are stull on draft. That is ok, we all do not write at the same level- allow students to use this writing process poster to understand their goal of where they should be. Teacher also use clothespins to display names. This helps the teachers and students know where they should in the Writing Process. On my display I have: Planning Ideas, Draft, Revise [ARMS], Edit [CUPS], Meet with Teacher, Publish.
I hope these tips and resources will help you in finding success in teaching writing in your classroom. You can visit my recent post on Growing Writers that will also help you with writing prompts and more!
Save this Post for Future Reference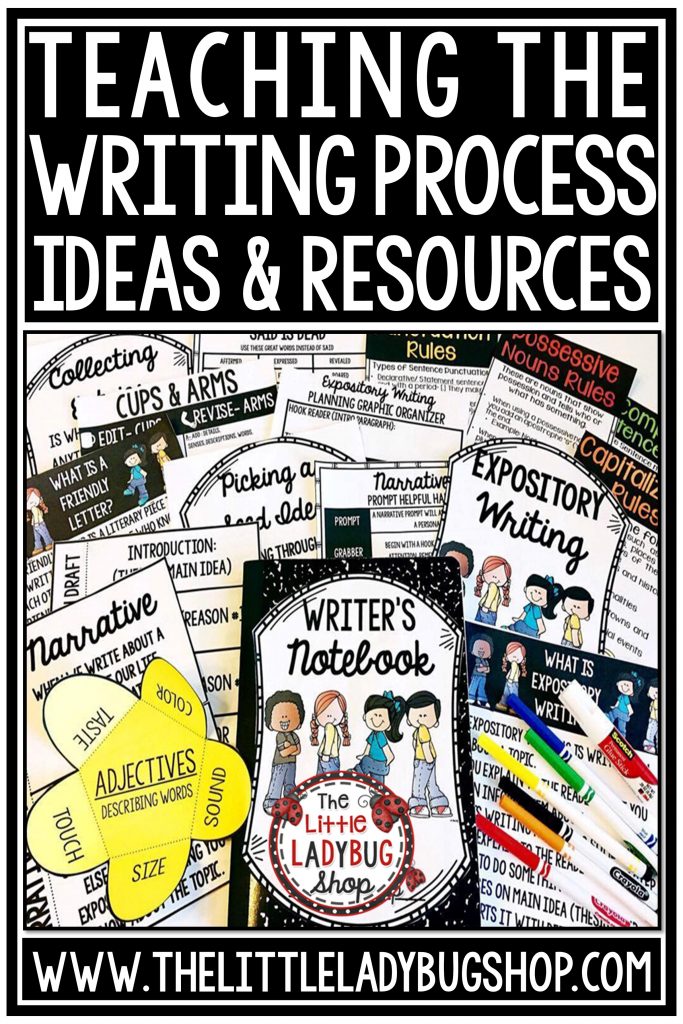 This post may contain affiliate links for your convenience. View our full disclosure policy here.