Teaching writing is a skill that may be difficult to many. I love sharing some tips that I use to help getting started teaching the writing process. As a student I struggled and never had confidence to express myself in writing. I used those struggles to help me become a writing teacher. I came up with many ideas and ways to meet all my learners needs in writing.
Today I will share a few tips that worked in my classroom and helped my students be successful in writing!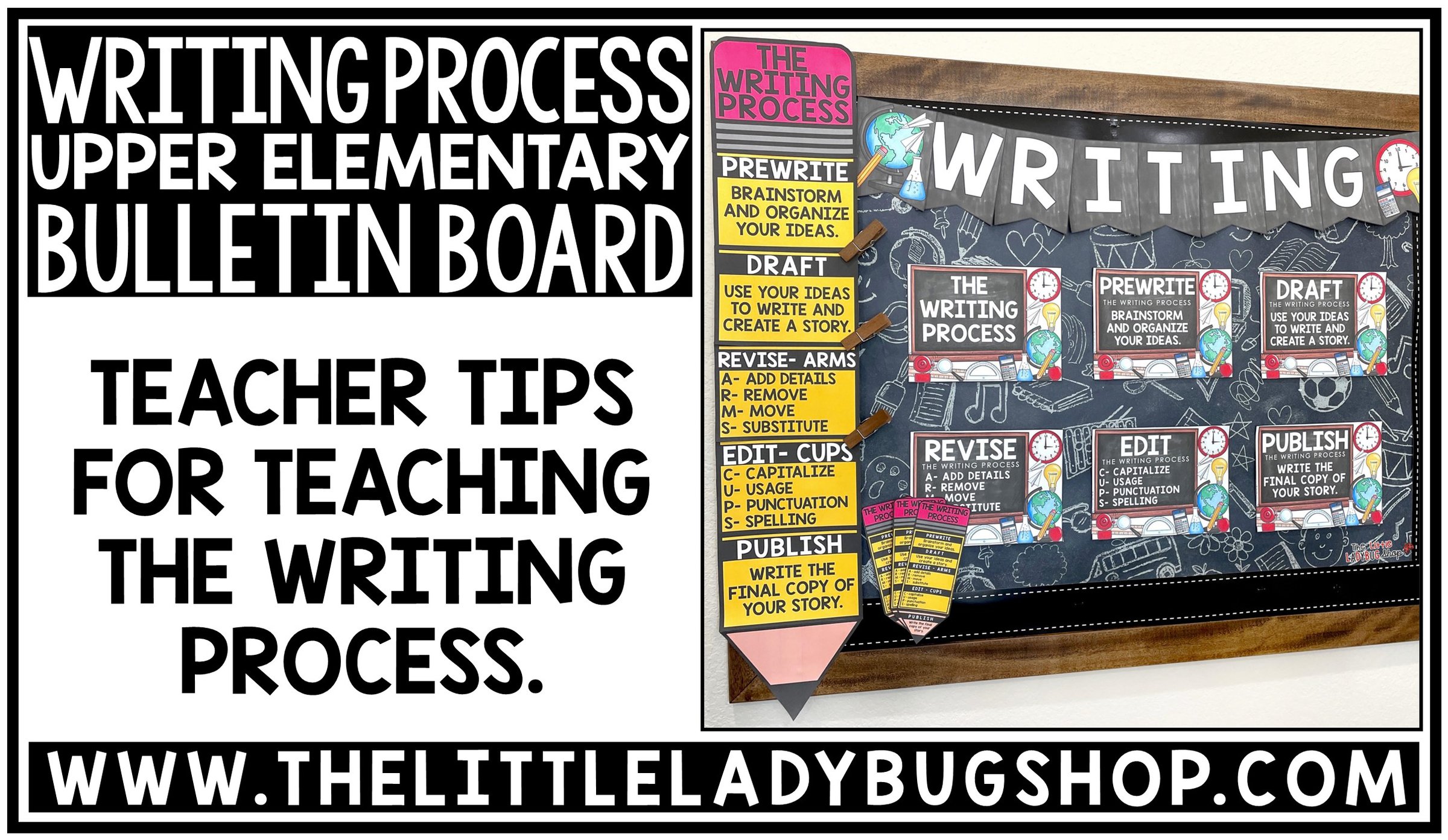 One question I like to ask myself when teaching is…What is your goal when teaching writing? Are you wanting your students to learn how to write: Narrative, Expository, Opinion Writing or are you wanting to focus on the entire Writing Process?
Getting Started in Teaching the Writing Process
My first thing is setting up my writing area. I set up student materials: notebooks, pencils, anchor charts, erasers, extra sticky notes, clipboards, and other materials. This area designated for writing, and explain to students this is where they will find everything they need.

I also have my bulletin board set up with my displays and Writing & Grammar Posters.
The Writing Process Poster is perfect for having my students move their clips down the pencil when they are on a certain area in the Writing Process. I include: draft, prewrite, revise, edit and publishing on my chart.
You can take a peek at my bulletin board here.
You can shop the Writing Process Poster HERE or HERE on TPT
Writing Notebook: I always set up my Writers Notebook to have an example to show students as we begin. [I set up cover, title pages, heart map, and a few organizers]. I model in my notebook as we work on different elements of the writing workshop.
Anchor Charts/ Display: I typically prepare my Anchor Charts and Posters ahead of time to help me focus on what my plan is to teach. I have my students help me complete and add to chart as we go through the lesson. I display the charts on the Writing Area so students can refer back to them when needed.
Gather Mentor Texts to use to demonstrate different elements. This is a great way to introduce how authors write. Every step of the Writing Process I use mentor texts to help me show examples, and it is easy to refer back to when students are stumped.

For example when I teach Introductions I use books such as: Owl Moon by: Jane Yolan or My Rotten Red Headed Older Brother by: Patricia Palacco 

Student's Notebooks: Students will set up writing notebook [ Writing Interactive Notebook has exactly what I use]. For every lesson the students add to notebook. I break apart the notebook into different sections: Table of Contents, Planning, Bank of Ideas [Writing Life}, Writing Genres [narrative, expository, creative writing], Word of Day is at end, and extra tools. I want my students to be able to create a bank of ideas in their writing notebook. We use our charts and other organizers to create this- and call this our Writing Life. You can call it anything- it is a place where they build ideas and go back to look at it later when they need ideas.
I always begin my Writing Instruction with reading a mentor text that I feel is strong in the area we are focusing on. I have created many mentor lessons that help me create this. My favorites are picture books that are quick and easy to pop open and use. However, I have used many novels to demonstrate strong writing skills to my students. This should be purposeful and short. You should be able to demonstrate the objective beforehand and then afterwards you have a TURN and TALK to monitor whether they understand. Teacher monitors discussions.
Model the SKILL of day/ WEEK. I typically use anchor charts to model. Remember Model, Model, Model is so important! Even if the students have the skill down I would model- show example, talk it out, and answer questions!
Allow students to return to writing area to focus on skill for the day:  coming up with topic ideas, introductions, body of story, ending, revising, editing, or publishing.
The teacher is constantly monitoring and discussing with students when they are working on their writing.
The teacher may pull small groups during this time to help students that are in need, or to revise and edit.
Materials I use to teach the Writing Process:
Quick Reflection on Teaching the Writing Process…
As students are writing, it is important to remember that students will write at different time frames. Some students might be ready to publish while others are stull on draft. That is ok, we all do not write at the same level- allow students to use this writing process poster to understand their goal of where they should be. Teacher also use clothespins to display names. This helps the teachers and students know where they should in the Writing Process. On my display I have: Planning Ideas, Draft, Revise [ARMS], Edit [CUPS], Meet with Teacher, Publish.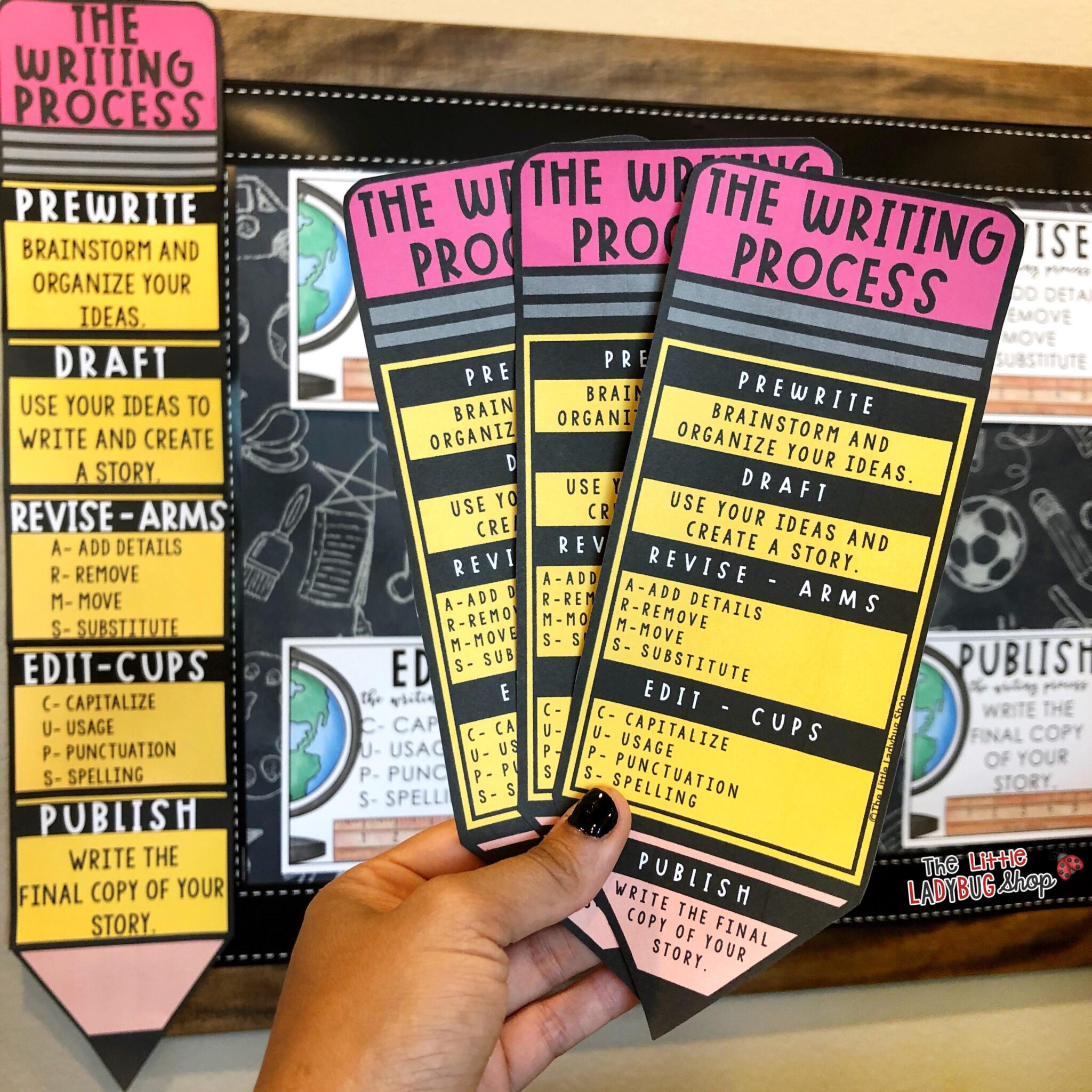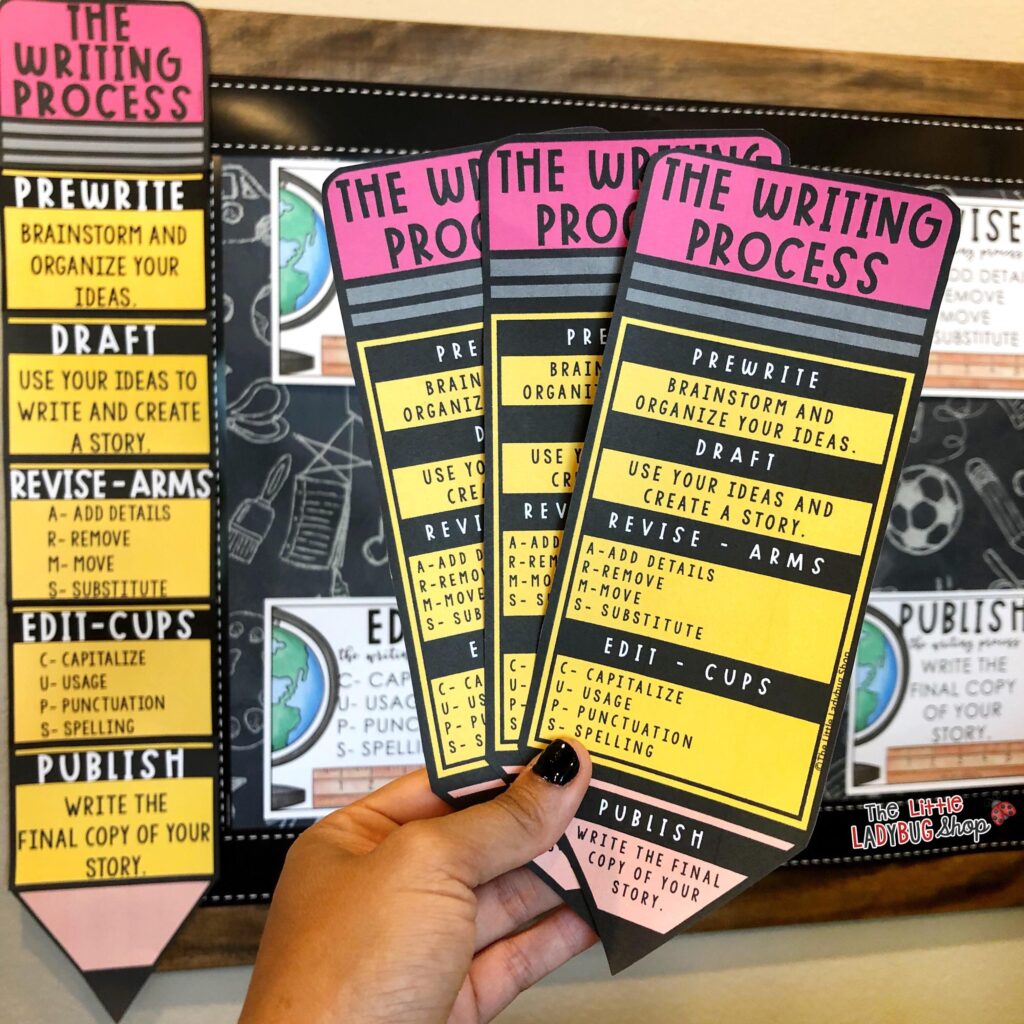 I hope these tips and resources will help you in finding success in teaching writing in your classroom. You can visit my recent post on Growing Writers that will also help you with writing prompts and more!
Save this Post for Future Reference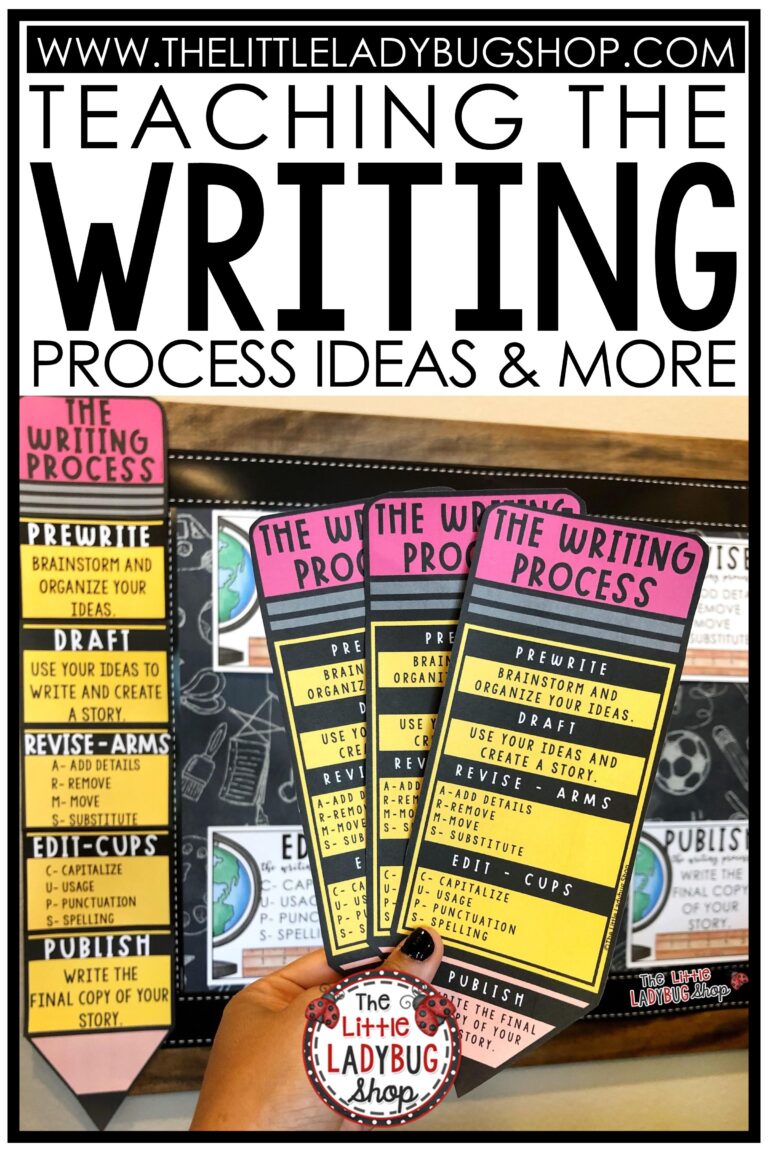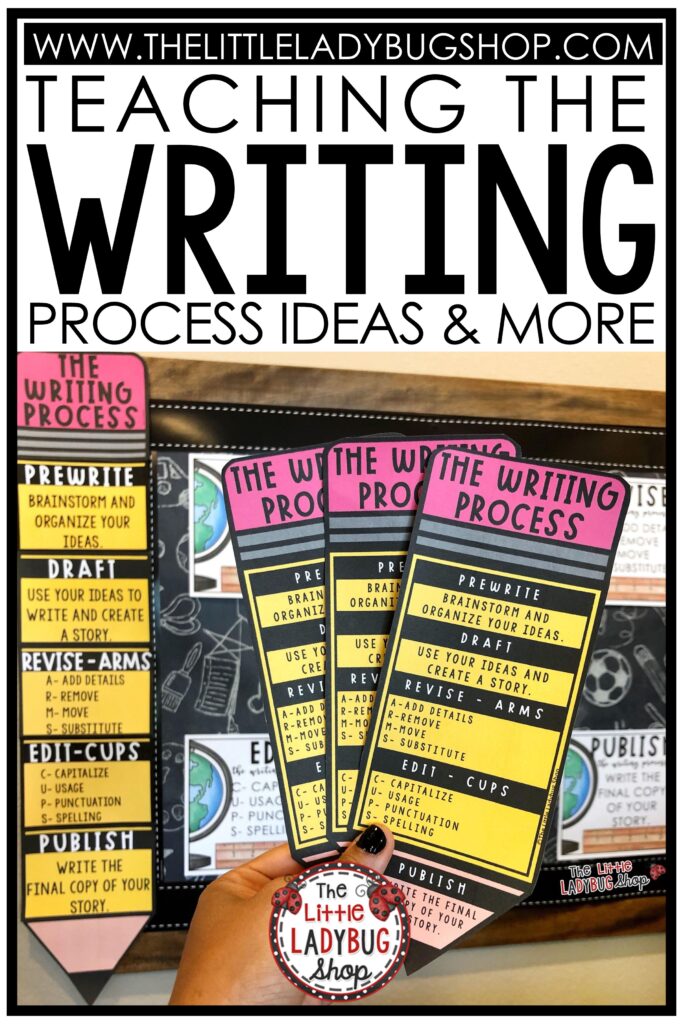 This post may contain affiliate links for your convenience. View our full disclosure policy here.