"Mrs. Ortiz, I'm done!" 
It's a refrain heard in every classroom, the only difference being the name of the teacher. Some students are naturally fast workers. Even after checking or editing their work, some students just get done quickly, meaning they have time to kill while the other students finish up.
As teachers, it's our job to challenge these students with extensions and additional activities so that they can continue to learn and improve their skills. Today, I will share some Extension Activities for Fast Finishers.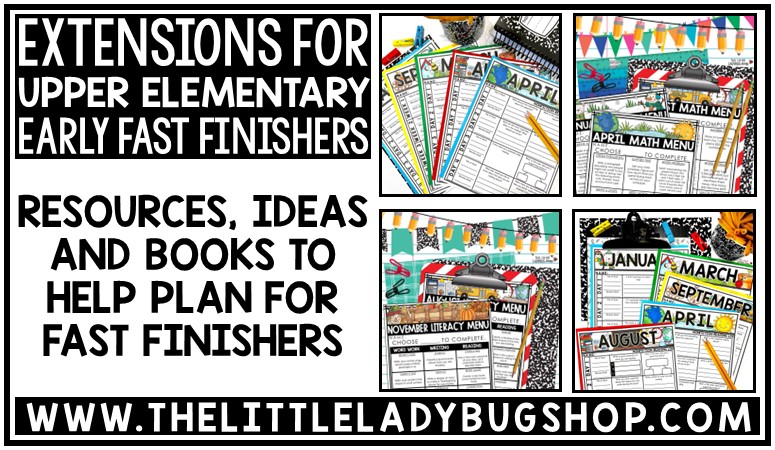 5 EXTENSION ACTIVITIES TO KEEP YOUR FAST FINISHERS ENGAGED:
1. SILENT READING:
In 2020, 16% of 9-year-olds say they hardly ever (or never!) read for fun. This makes it more important than ever to encourage students to read.
One way to do this is to give students class time for reading. It's a great fast finisher or morning work activity. Make it even more desirable by making a fun "reading nook" in your classroom featuring a few pillows or a beanbag chair.

You can also boost your students' interest by using

reading logs

to track their progress.

Also, be sure to encourage students to pick books of interest to them including graphic novels, magazines, and even e-books!

I love this quote by James Patterson, "There's no such thing as a kid who hates reading. There are kids who love reading, and kids who are reading the wrong books." I try to always remember this so that I can help my students find the book that will spark their love of reading!
Here are some of the top picked books from my classroom library during silent reading time.
2. CHOICE BOARDS:
Give your students a choice board that lets them pick their own work.
The great thing about choice boards is that they're so versatile. Ask students to pick 2, 3, or even 5 activities from each board. Students will love crossing off each activity they've completed.

Plus, you can use them for any skills or academic area you'd like to focus on.
For example, try my Choice Board Resource focusing on reading, writing, and nonfiction skills.
Or, you can make a board of math problems, science activities, or social studies projects.
SHOP ALL MATH, ELA, READING AND POETRY CHOICE BOARDS
3. BINDER RING STEMS:
Make slips of paper, each listing a fast finisher or extension activity. Then, punch a hole in them and hang them on a binder ring. When students want to pick an activity, they simply pull a slip from the ring. 
My Literacy Fast Finishers Resource includes activities in this format that you can simply print out and add to your binder ring! 
4. STATIONS AND CENTERS: 
If your classroom has space for a few small centers or stations, you can use them for fast finishers. Alternatively, store some activities in Tupperware containers or desk organizers so that students can grab one and take them to their desk. Some great options include:
Sodokus

Tangrams

Crossword puzzles

Hidden picture puzzles

Word searches

Chess

Checkers

Jigsaw puzzles
5. ARTWORK:
Help your students grow their artistic abilities with basic art supplies. You can encourage students to copy the styles of famous artists or let them go free style. In addition to markers, crayons, and paper, offer students playdough and googly eyes. You might also offer embroidery floss so that students can practice sewing or make friendship bracelets. 
I hope these extension and fast finisher ideas are helpful for you.
I'd love to hear from you, do you have a favorite go-to fast finisher activity?
Get in touch with me on Instagram or send me an email at thelittleladybugshop, I would love to hear from you!
DON'T FORGET TO SAVE THIS POST FOR FUTURE REFERENCE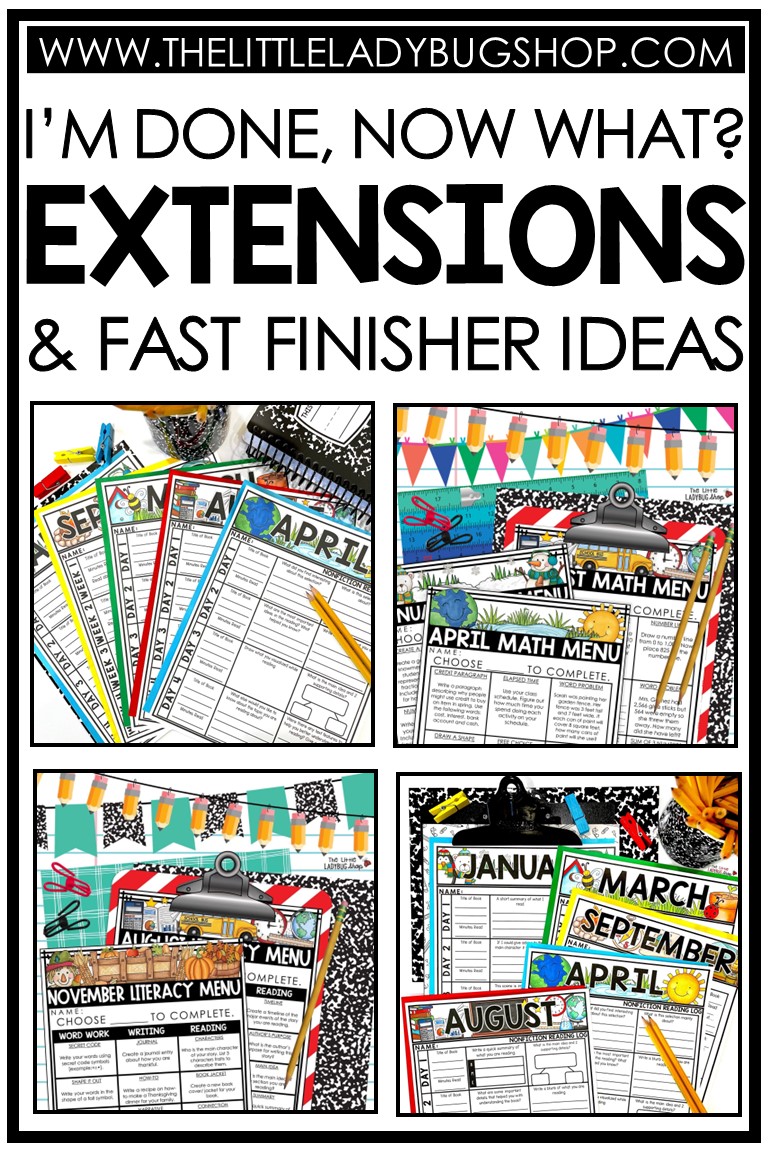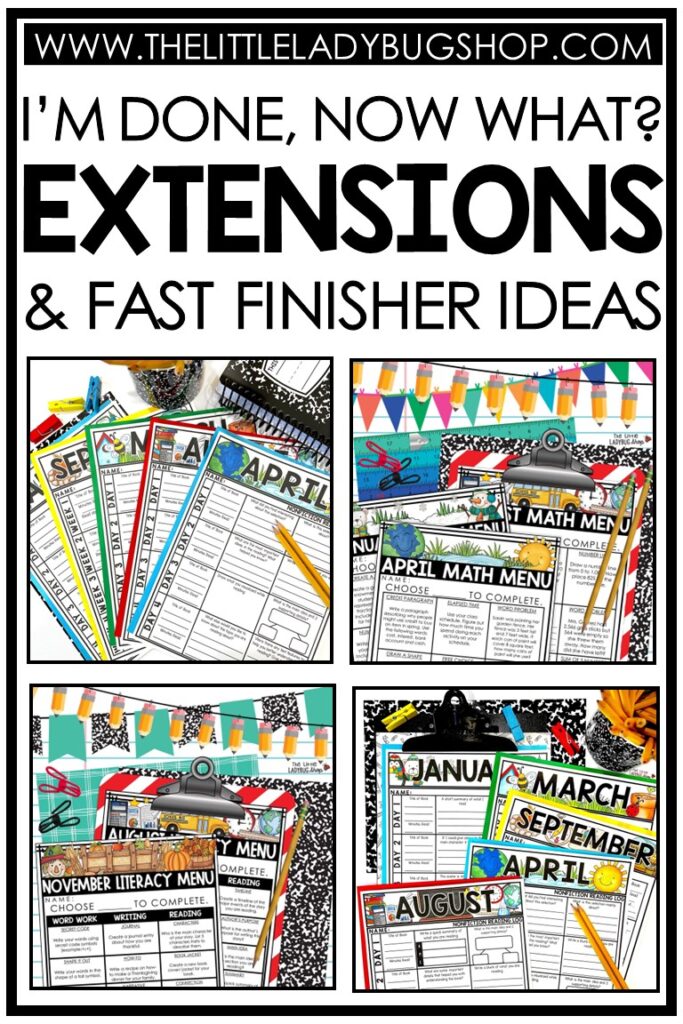 This post may contain affiliate links for your convenience. View our full disclosure policy here.