You can't put the book down, even though it's past midnight. Chances are, it's a mystery! For adults and children alike, mysteries are engaging and exciting. You just have to try and solve it for yourself before you reach the end of the story! This is why I love to include Writing and Reading Mysteries for Comprehension in my classroom. Students, even reluctant readers are almost always drawn into mysteries, making them a fun and functional unit. Plus, mysteries open so many doors to learning!
Here are a few great books for Reading Mysteries for Comprehension
The most important thing when teaching a new genre or skill is to expose students to new books, new texts that helps them understand the way the text is written. I have purchased many books to add to my library to expose my students to the text.
Here are a few of the mysteries I share…
Here are wonderful ideas for Writing and Reading Mysteries for Comprehension
Are you looking for some help putting your mystery unit together?
I've created some resources that are perfect for teaching the genre of mystery. 
The Mystery Unit Reading and Writing Activities is perfect for teachers who have their own stories and mystery books that they'd like to read with their students. The unit offers a variety of graphic organizers, anchor charts, and student writing pages that you can use as you study mysteries. In the unit, students will explore the main idea, character analysis, inference, story elements, sequencing, and more. 
Need some stories to kick off your unit? I have created two sets of mystery stories that are perfect for third to fifth graders. The stories are fun, engaging, and exciting for students to read while also maintaining age-appropriate themes. In addition, the stories are accompanied by before and after reading questions, multiple-choice questions, and graphic organizers.

Here's how I have fun with mysteries in my classroom
Become Detectives
When beginning your mystery unit, encourage your students to become detectives. Invite them to search for clues, use a detective's notebook, and think like a detective. To get into character, you might offer children magnifying glasses, detective hats, or other props. 
In addition, take some time to teach students the characteristics of detectives. For example, detectives:
Notice details

Take notes

Are thoughtful

Investigate
Then, turn your little detectives loose and let them discover the mystery genre! 
Explore Mysteries
No mystery unit would be complete without actual mystery stories! Luckily, there are plenty of great childrens' series and mystery books to choose from. 
Encourage children to explore mysteries as detectives, trying to solve the mystery as they read. In addition, teach children the elements specific to mystery stories. Not only do mysteries include the setting, characters, and plot, but they also include clues. Typically, mysteries start with an exposition of the problem, clues that may help the reader guess the ending, and the end in which the solution is exposed. Sometimes a false lead in the story tries to trick the reader into suspecting a solution that isn't the true solution. 
Mysteries are great stories for practicing reading comprehension skills, story elements, analyzing characters, and more. Whether you offer your students graphic organizers, multiple-choice questions, or book reports, mystery work can be lots of fun. 
I hope you find these resources helpful and that you and your students have a great time exploring mysteries! Have questions or comments? Get in touch with me on Instagram or send me an email at thelittleladybugshop, I would love to hear from you!
DON'T FORGET TO SAVE THIS POST FOR FUTURE REFERENCE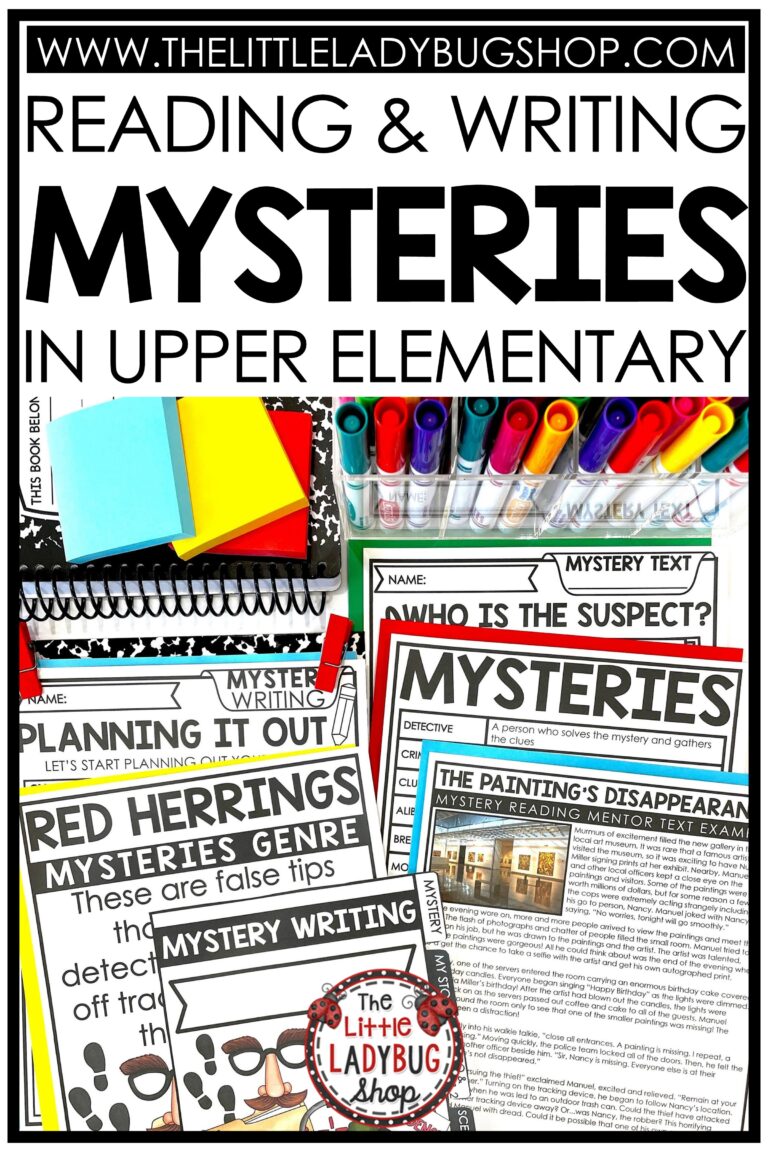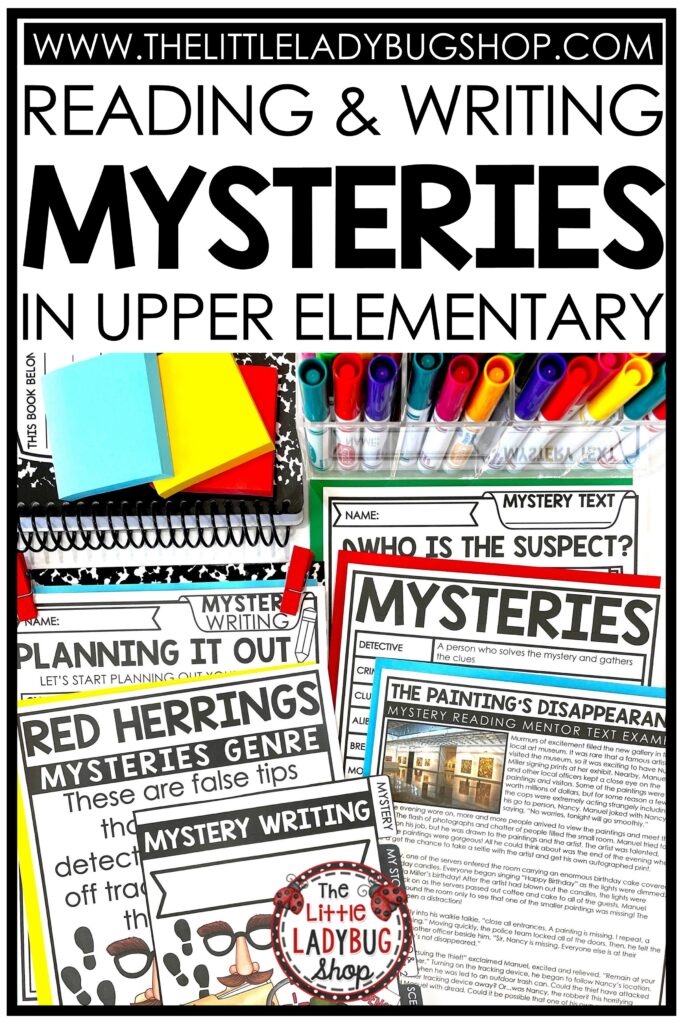 This post may contain affiliate links for your convenience. View our full disclosure policy here.