Fall means pumpkins, leaves, bonfires, and great read alouds! Your students are never too old to be read aloud to. Upper elementary students love to hear engaging stories told by their teachers. Try some of these incredible fall read aloud books to share with your students this fall.

This post may contain affiliate links for your convenience. View our full disclosure policy here.
Fall Read Aloud Picture Books for Upper Elementary
Some of my favorite picture books that I enjoy using to lead into a lesson include these:
The True Story of the Puppeteer of Macy's Parade. Everyone's a New Yorker on Thanksgiving Day, when young and old rise early to see what giant new balloons will fill the skies for Macy's Thanksgiving Day Parade. Who first invented these "upside-down puppets"? Meet Tony Sarg, puppeteer extraordinaire!
Turkey is in trouble. Bad trouble. The kind of trouble where it's almost Thanksgiving . . . and you're the main
course. But Turkey has an idea–what if he doesn't look like a turkey? What if he looks like another animal instead?
On the night before Thanksgiving, a group of children visit a turkey farm and meet Farmer Mack Nuggett and his coop of cockerels: Ollie, Stanley, Larry, Moe, Wally, Beaver, Shemp, and Groucho. The children and turkeys giggle and gobble, and everything is gravy. As the trip comes to an end, the children leave the farm with full hearts — and bulging bellies — reminding people and poultry alike that there is much to be thankful for.
Thanksgiving might have started with a jubilant feast on Plymouth's shore. But by the 1800s America's observance was waning. None of the presidents nor Congress sought to revive the holiday. And so one invincible "lady editor" name Sarah Hale took it upon herself to rewrite the recipe for Thanksgiving as we know it today. This is an inspirational, historical, all-out boisterous tale about perseverance and belief: In 1863 Hale's thirty-five years of petitioning and orations got Abraham Lincoln thinking
While tired farmers and their families are in bed, the harvest moon silently climbs into the sky and starts working its magic. For some, it is the nightly signal to rise and shine. It is time to hunt, to work, or to play in the shadows. For a little girl and her cat, it is an invitation to enjoy the wonders of the night and a last flood of light before the short days of winter set in
Fall Read Aloud Books Chapter Books for Upper Elementary
These are some wonderful chapter books that are perfect to begin reading during the fall season.
The sequel to Third Grade Angels, this classic Spinelli read aloud follows Suds, a new fourth grader who knows he's supposed to be tough but isn't quite ready to make the leap to big kid. Share this fun read aloud with your students and talk about overcoming fears and peer pressure.
Using short story collections for read alouds is perfect when you have a short time period to share stories with your students or to start the day. Jacqueline Woodson, Kwame Alexander, and others share stories of engaging characters and friendship, excellent for upper elementary students.
This silly story of an imaginative fifth grader who changes a simple name for a simple object into "frindle" will delight your upper elementary students. Read this aloud to your class and enjoy!
This New York Times bestseller and 2017 Global Read Aloud is an upper elementary favorite. Roz is a robot, alone in a world of her own, learning how to survive. Your students will love the character and this intriguing, original story.
Want a tear jerker? It's almost a right of passage to share this read aloud with upper elementary students. The story of Billy and his two hound dogs, Old Dan and Little Ann has stood the test of time when it comes to incredible story-telling and heartfelt themes.
When Esperanza and her family must flee to California during the Great Depression, her family encounters problems and must face their fears. This historical fiction piece infuses hispanic culture and themes of empathy and understanding set in the past.
Ivan is a gorilla who develops an unexpected friendship with an elephant, Ruby, in this New York Times best-seller and Newbery Medal winner. Your students will love reading a story that is told by an animal, a unique and fascinating narration that makes Applegate's story come alive.
Sure, there are so many Chicken Soup titles out there, but your young readers will be inspired by these short stories of happiness, kindness, and kids making a difference. Use them as quick starts to the day or a lesson.
These Fall read aloud books for upper elementary will delight your readers this school year. Read the full texts or try them for first chapter Fridays! Some of the short stories will get your students interested in other texts by the authors or simply inspire them to read and write.
Make sure to Pin and Save this Post for Future Reference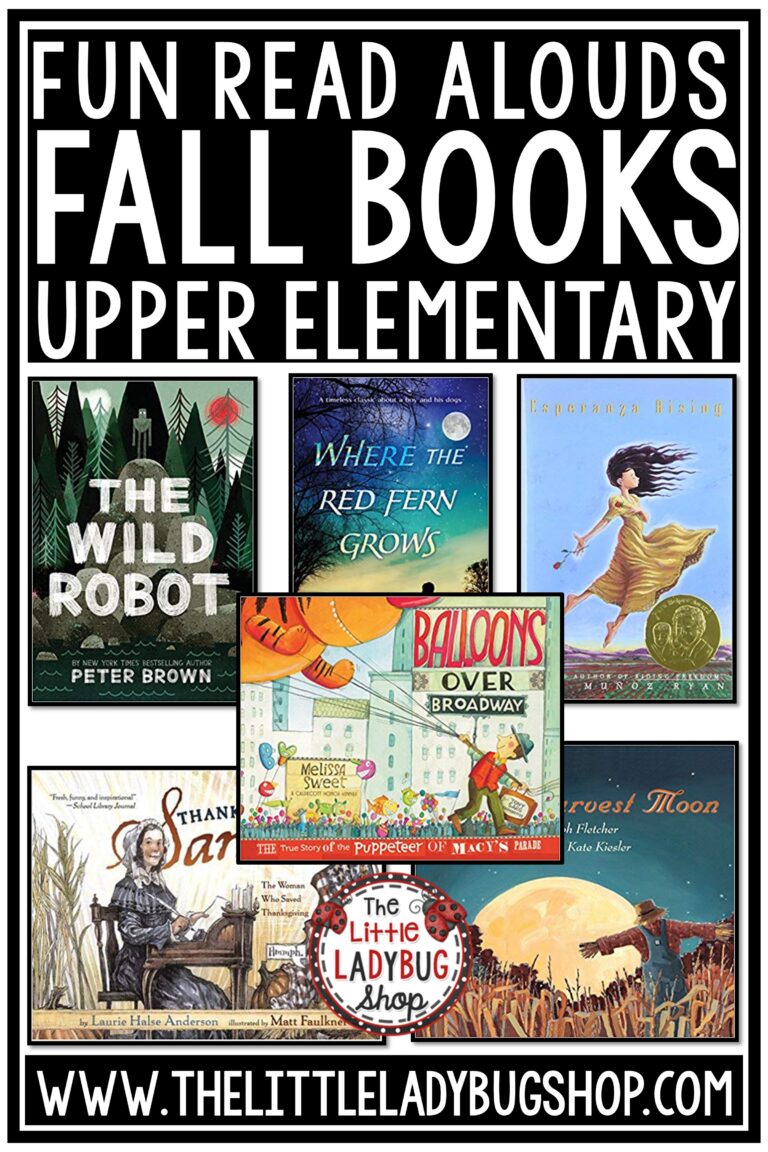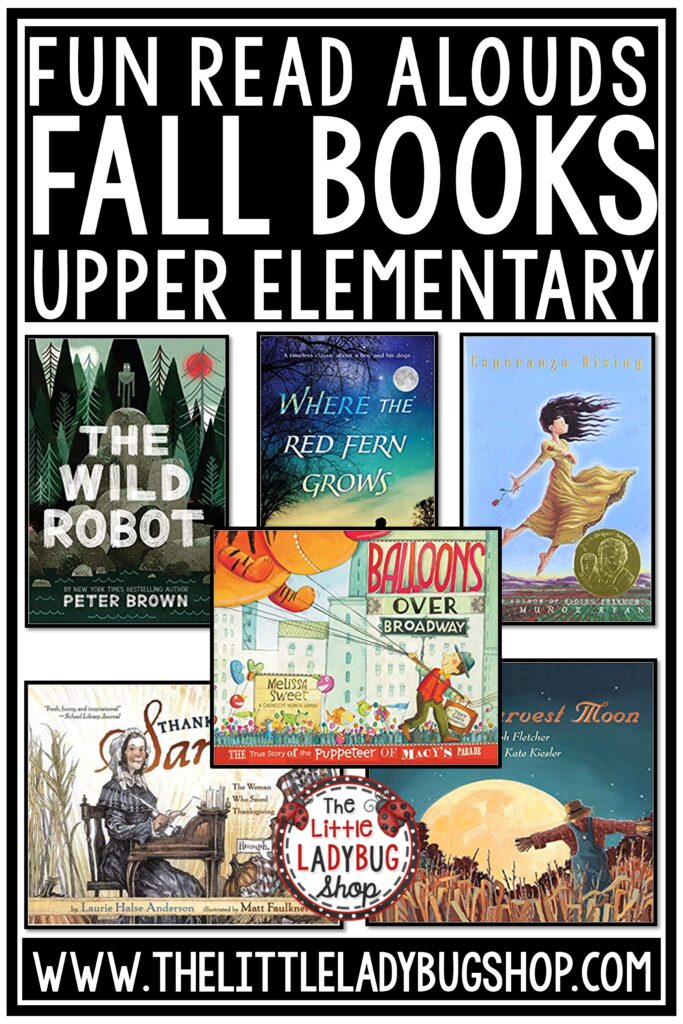 This post may contain affiliate links for your convenience. View our full disclosure policy here.
*Affiliate Links: "The Little Ladybug Shop is a participant in the Amazon Services LLC Associates Program, an affiliate advertising program designed to provide a means for sites to earn advertising fees by advertising and linking to Amazon." (source: Section 5)