Unleashing Creativity with Fractured Fairy Tales in the Upper Elementary Classroom
The enchanting world of fairy tales has long been a staple in childhood development, cultivating imagination, emotional understanding, and moral reasoning. However, have you ever considered the valuable and creative opportunities of creating fractured fairy tales?
Upper elementary students can significantly benefit from crafting their versions of these familiar stories, which can help them explore and learn in a fun and engaging way.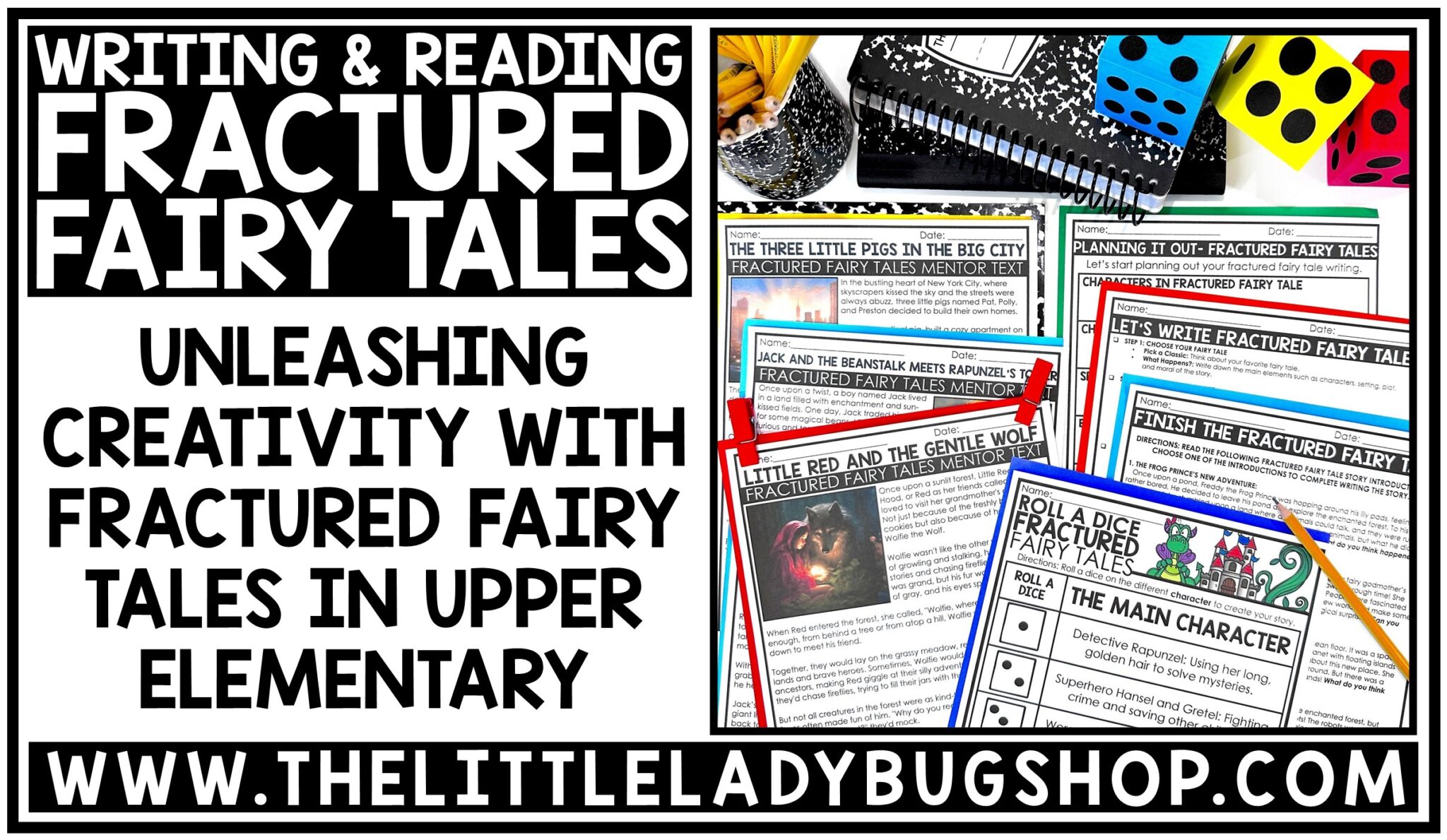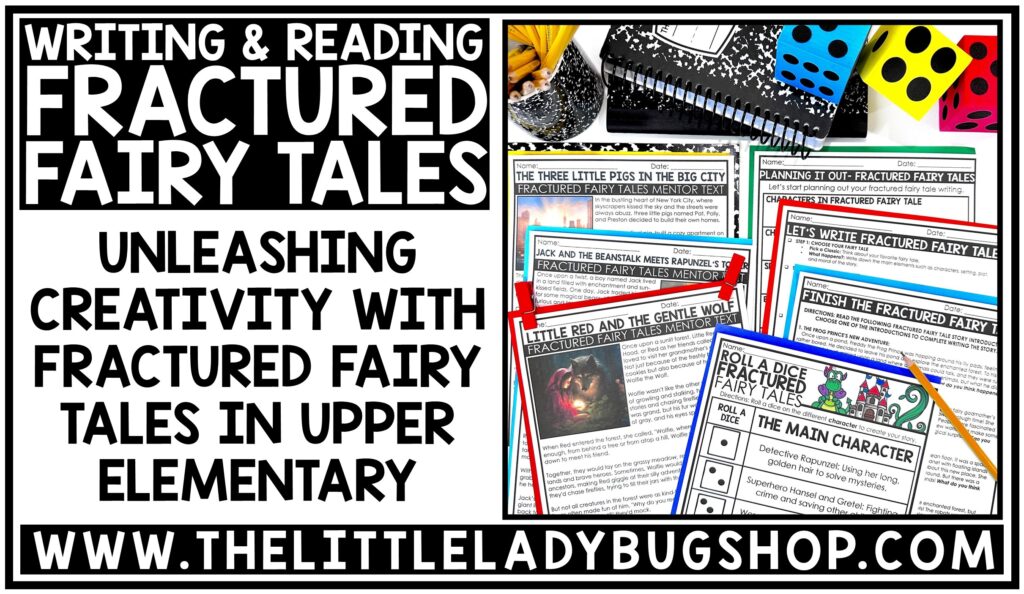 My top 5 reasons to bring fractured fairy tales to your classroom:
CREATIVE THINKING: Students learn to think outside the box, imagining new possibilities for familiar stories. They innovate by altering characters, settings, and plot points.
LITERARY UNDERSTANDING:

Story Elements: Understanding and manipulating key story elements (like setting, plot, and character) enhance their grasp on storytelling structures.
Genre Exploration: They explore different genres and writing styles by transforming traditional tales.

WRITING SKILLS: Crafting a coherent narrative from start to finish enhances writing proficiency.
READING COMPREHENSION: Breaking down original fairy tales to create new ones sharpens analytical reading skills.
ENGAGEMENT AND MOTIVATION: Allowing students to create their own versions of tales can increase investment in their writing. The enjoyable nature of fractured fairy tales can make the writing process engaging.
Implementing Fractured Fairy Tale Writing:
Embarking on this magical journey through twisted tales involves a structured yet flexible approach:
Introduce Original Tales:

 Revisit the traditional fairy tales, exploring their characters, plots, and moral lessons.

Share Mentor Texts Fractured Fairy Tales:

Introduce students to fractured fairy tales through reading and analysis. Discuss what's changed and why it's interesting or funny.

Dissect Story Elements:

 A deep dive into character traits, settings, and plots provides students with a toolkit to reconstruct their tales.

Brainstorming & Planning:

 Encourage students to play with ideas, ponder 'what ifs', and jot down their fluttering thoughts before deciding on their story direction.

Writing and Revising:

 With plans in hand, students sculpt their tales, revisiting and revising to add sparkle and coherence.

Sharing the Magic:

A story is meant to be heard. Create opportunities for students to share their tales through readings, performances, or display the fairy tales which I always do on bulletin boards. 
If you are looking to incorporate Fractured Fairy Tales into your classroom today, take a peek below.
MY FRACTURED FAIRY TALES STEP BY STEP WRITING GUIDE WITH MENTOR TEXTS INCLUDES:
3 Originally Written Fractured Fairy Tale Mentor texts
Anchor chart with definition and example
Writing Fractured Fairy Tale Story starter
Writing Fractured Fairy Tale Roll a Story: character, setting or plot
Fractured Fairy Tale checklists to guide students
Writing Fractured Fairy Tale planning pages (organizers, publish pages and displaying flipbooks)

Enriching the Experience: Cross-Curricular Connections
Fractured fairy tale projects can enchant various areas of the curriculum:
Art:

 Illustrating their tales allows students to express their narrative world visually.

Drama:

 Performing or reading tales aloud provides a platform for oral communication and expressive arts.

Social Studies:

 Exploring tales from various cultures can weave a global tapestry of understanding and connection.
Fractured Fairy Tale Books to Explore
Here are a few of my favorite fractured tales to explore today.
The True Story of the 3 Little Pigs
The Other Side of the Story
The Frog Prince Continued…
And of course all the different versions of Cinderella
Take a peek here at all the books I have added to my list and library! 
A Magical Conclusion
Fractured fairy tales offer a delightful blend of creative expression, critical thinking, and skill development, leading students through a multifaceted learning experience. As educators, we guide these young writers through their enchanted forests, ensuring they discover their creative magic, conquer challenges, and emerge with tales that shimmer with their unique insights and imagination.
In weaving their fractured tales, students do more than engage with narrative constructs; they breathe life into characters, explore alternative paths, and, in doing so, learn that stories, much like their own lives, can be rich with unexpected adventures and self-discovery. So, let's turn the page and step into a world where our young writers create the unexpected and creative stories!
I hope you love teaching fractured fairy tales in your classroom as much as I do!
Tell me, which fractured fairy tale is your favorite to read? Get in touch with me on Instagram or send me an EMAIL ME HERE ! I'd love to hear from you!
MAKE SURE TO PIN AND SAVE THIS POST FOR FUTURE REFERENCE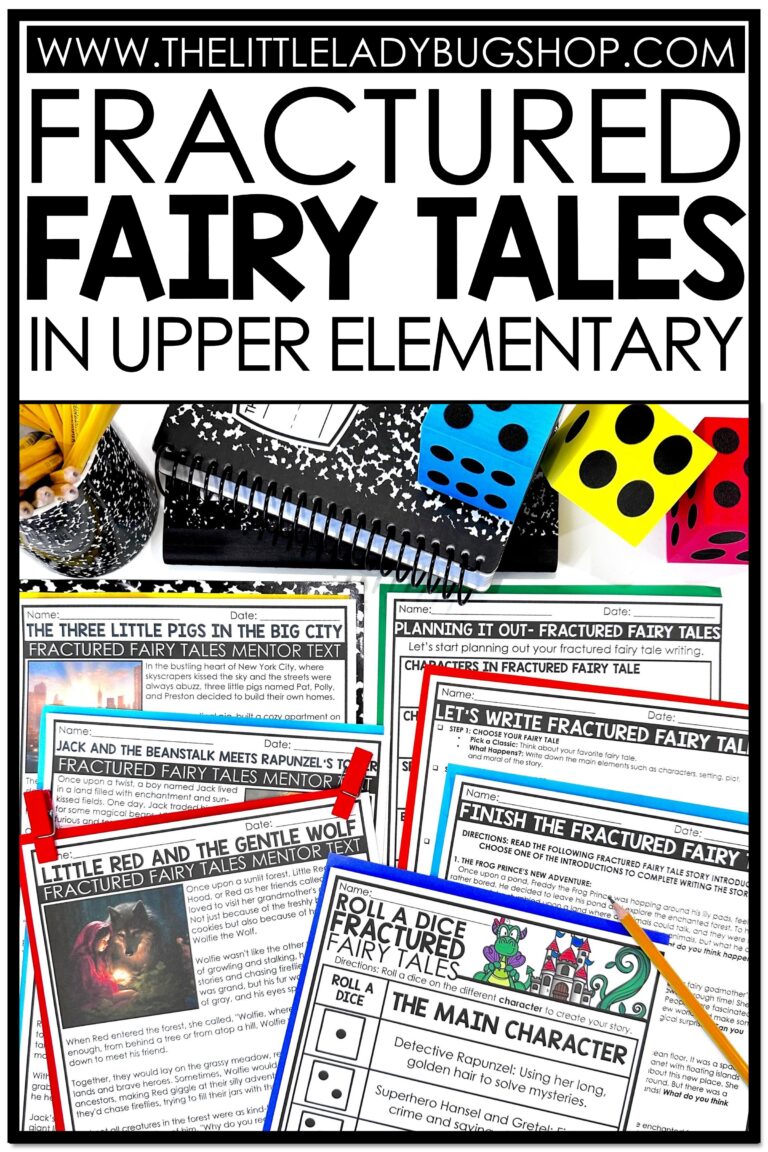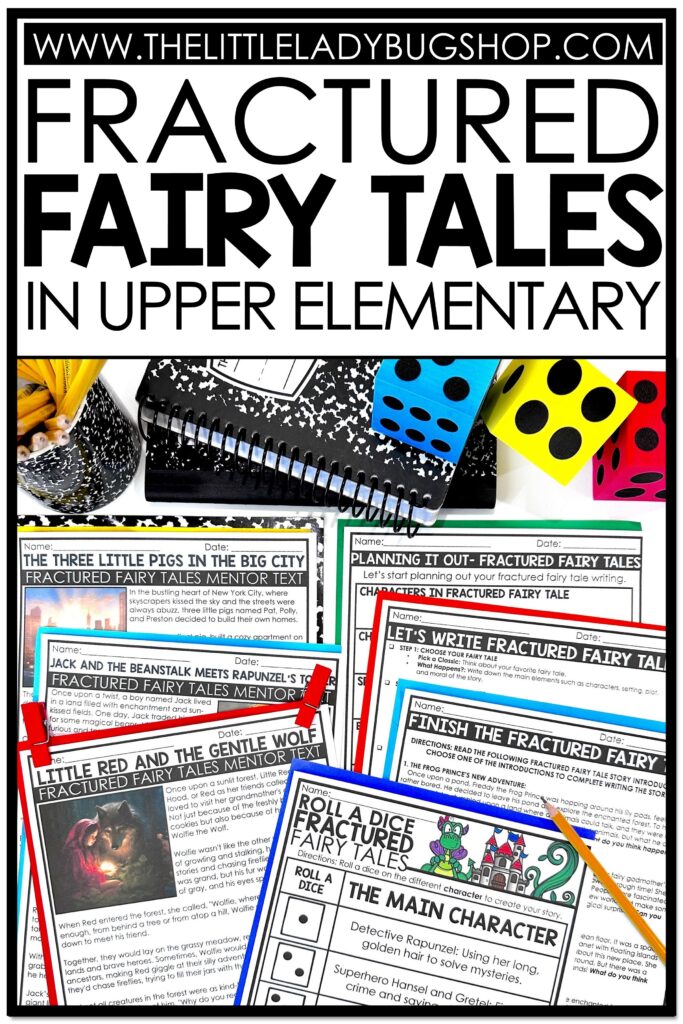 This post may contain affiliate links for your convenience. View our full disclosure policy here.