Halloween and Fall in the Upper Elementary Classroom: Making Learning Spooktacular!
As educators, we know that Halloween and fall is more than just a season – it's a feeling. The crisp sound of leaves underfoot, the aroma of pumpkin-spiced treats, and the excitement of Halloween all create a magical atmosphere. And for those of us teaching upper elementary, this time of year presents a wealth of opportunities to engage our students in a learning experience that's both fun and meaningful.
Let's fall into some ideas on how you can sprinkle some Halloween and fall magic into your classroom.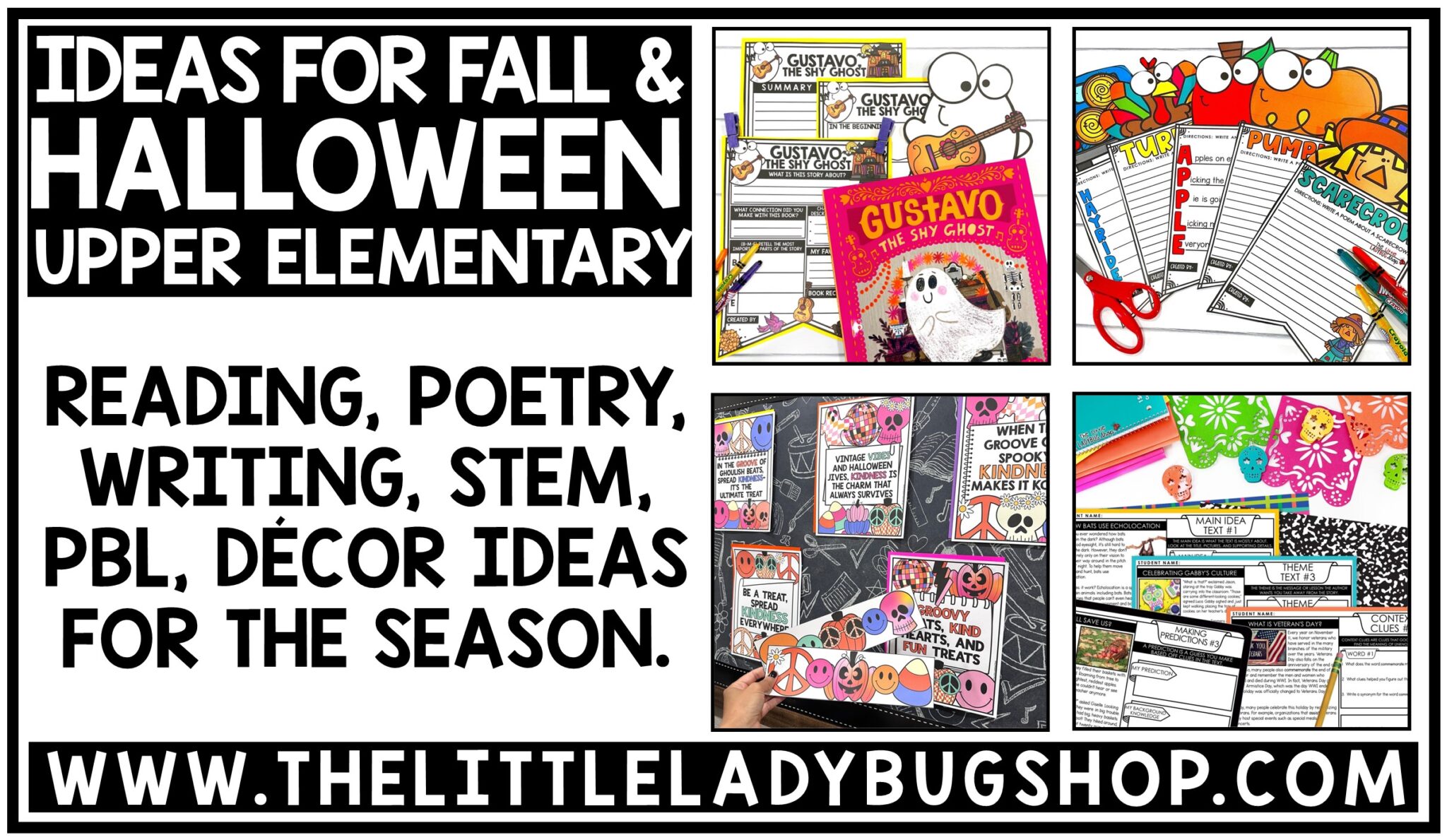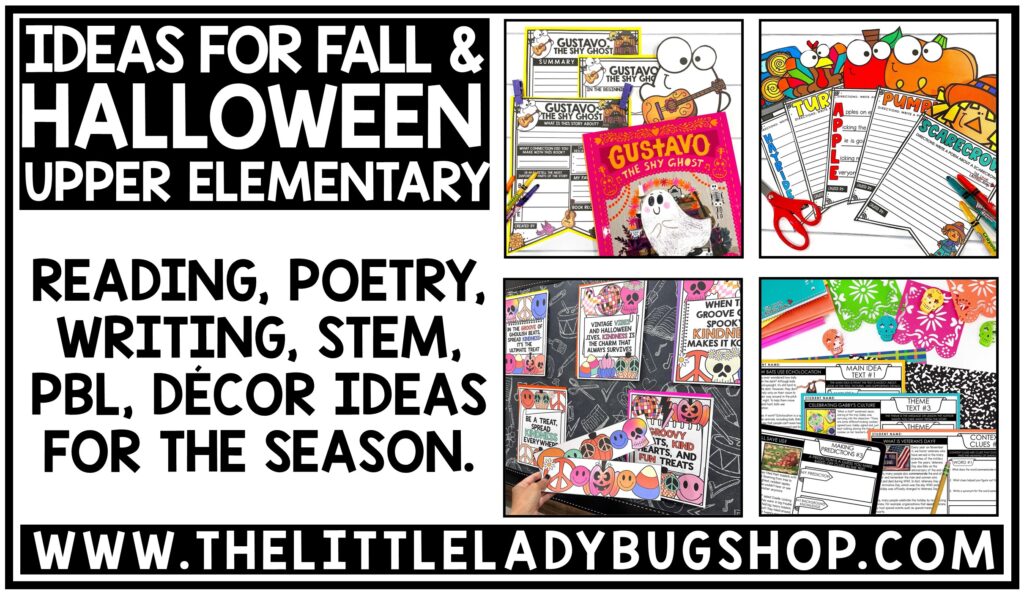 15 ideas for you to use for Halloween and Fall in the Upper Elementary Classroom
I have linked some of these ideas when planning your lessons.
Halloween Debate

: Is candy corn delicious or not? Hold a class debate on this or other Halloween topics.

Fall Reading Comprehension:

 My favorite way to incorporate the seasons is reading comprehension passages. Like these sets, the Fall Reading Skills focus on the main idea, theme, and context clues; all text is fall-related.

Escape Room:

Design a Halloween or Fall-themed escape room with puzzles for students to solve.

Fall Literature Circles

:

 I love teaching and yearlong incorporating book clubs and literature circles. Why not introduce autumn-themed books for group reading and discussion? Incorporate short stories or books themed around fall or Halloween. Titles like "The Halloween Tree" by Ray Bradbury or Roald Dahl's "The Witches" can be engaging reads. You could also introduce mystery and detective stories, which resonate with the suspenseful spirit of the season. Your students will love this idea! Another way to incorporate seasonal books is by using picture books. Here are some of my favorite 

Fall Book Review Teach-Go Pennants

, perfect for Halloween or Fall.

Drama Play

: Adapt a spooky story into a play or skit for students to perform. 

Recipe Reading

: Read and prepare a fall-themed recipe, discussing measurements and sequence.

 Science of Autumn:

Turn the changing colors of leaves into a science lesson. Dive into chlorophyll, discuss why leaves change colors, and even do experiments with leaf pigments using paper chromatography. I also love to have my students read and understand more about fall and leaves changing, take a peek at this Paired Passage Set with Fall Leaves 

Fall and Autumn Poetry

: Dive into poetic forms, using the fall season as inspiration. You will love using this Fall Poem of the Week Set perfect for all season long.
Halloween Activity Packet: I created this packet many years ago to have everything at my fingertips for Halloween including: writing prompts, math color by code, reading and more!
Fall or Halloween Classroom Décor: Involve students in decorating the classroom. They can contribute by making paper jack-o-lanterns, autumn leaf garlands, or even writing fun spooky poems to adorn the walls. Even using easy-go themed decor posters like the Groovy Halloween themed will set a scene and make an enjoyable learning environment for your student. 
Creative Writing Prompt:

 Stimulate their imaginations by having students write a Halloween or fall-themed story. It could be a friendly ghost tale, a narrative about a journey through a corn maze, or a story on how they'd design their own haunted house.

Dia de Los Muertos: I love having my students research and learn about all cultures, and this is a wonderful day to celebrate the Latino culture. I use this activity every year

Haunted House STEM Challenge:

 Use cardboard and craft supplies to design and build a haunted house.

Pumpkin Investigation, How to Carve a Pumpkin and Seed Estimation

: The Pumpkin Investigation Booklet is an excellent resource for teaching the Pumpkin Life Cycle and How to Carve a Pumpkin.  Your students will enjoy creating this activity, and you can proudly display it once they have completed it. And students will love guessing the number of seeds in a pumpkin, then count to see who's closest.

 Fall Festival STEM and PBL Design: The ultimate goal for this activity is to grow your students creativity and to help them with their persuasive writing skills. My students enjoyed these design tasks and seeing their final outcomes was so exciting.
More ideas and Free Halloween and Fall Resources in the Upper Elementary Classroom
Remember, the essence of these activities is to celebrate the season and embed learning in a fun and festive way. The familiar backdrop of fall and Halloween will make these lessons memorable for your students, fostering an environment where learning becomes a treat! 
MAKE SURE TO PIN AND SAVE THIS POST FOR FUTURE REFERENCE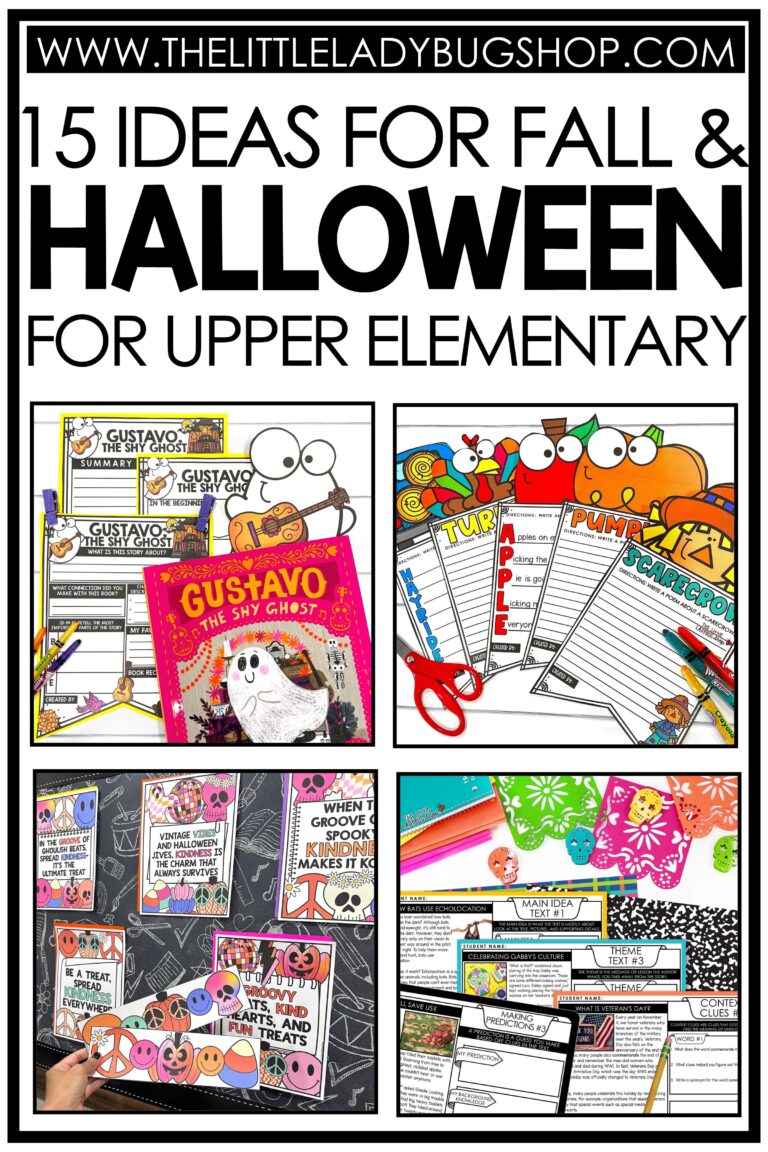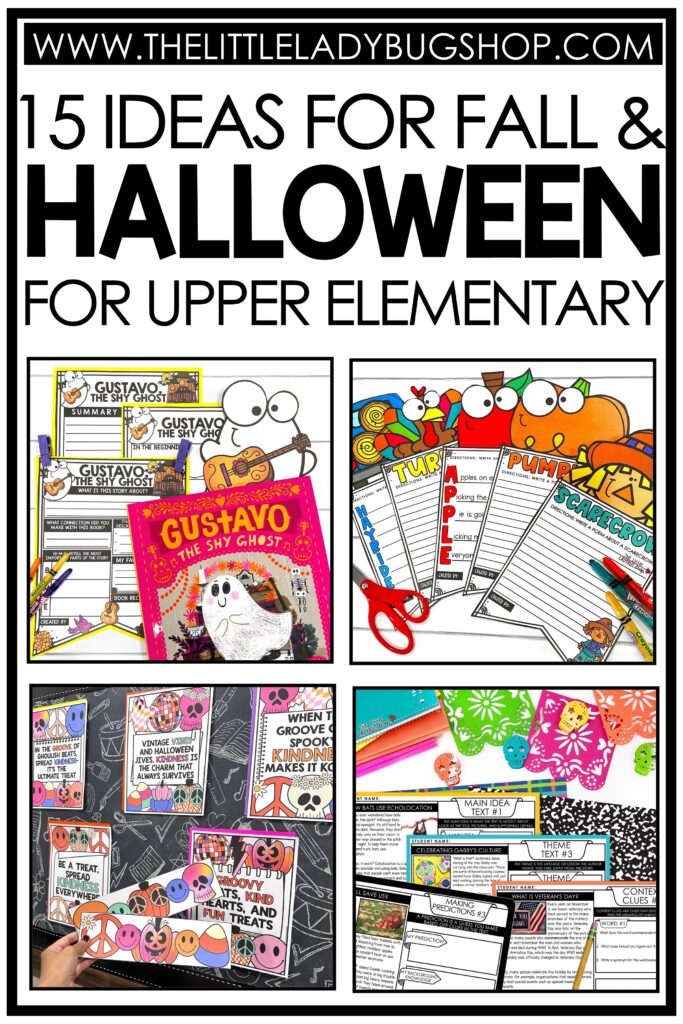 This post may contain affiliate links for your convenience. View our full disclosure policy here.