Often research has high emphasis in secondary grades, but 
the importance of teaching research writing in upper elementary 
cannot be overlooked. Teaching research in elementary school helps students develop higher level questioning skills, understand how to take notes, paraphrase, and focuses on communicating ideas through the written word. I have put together some helpful 
resources 
for you to use in your classroom today and also some information to help you understand the importance of research in your classroom.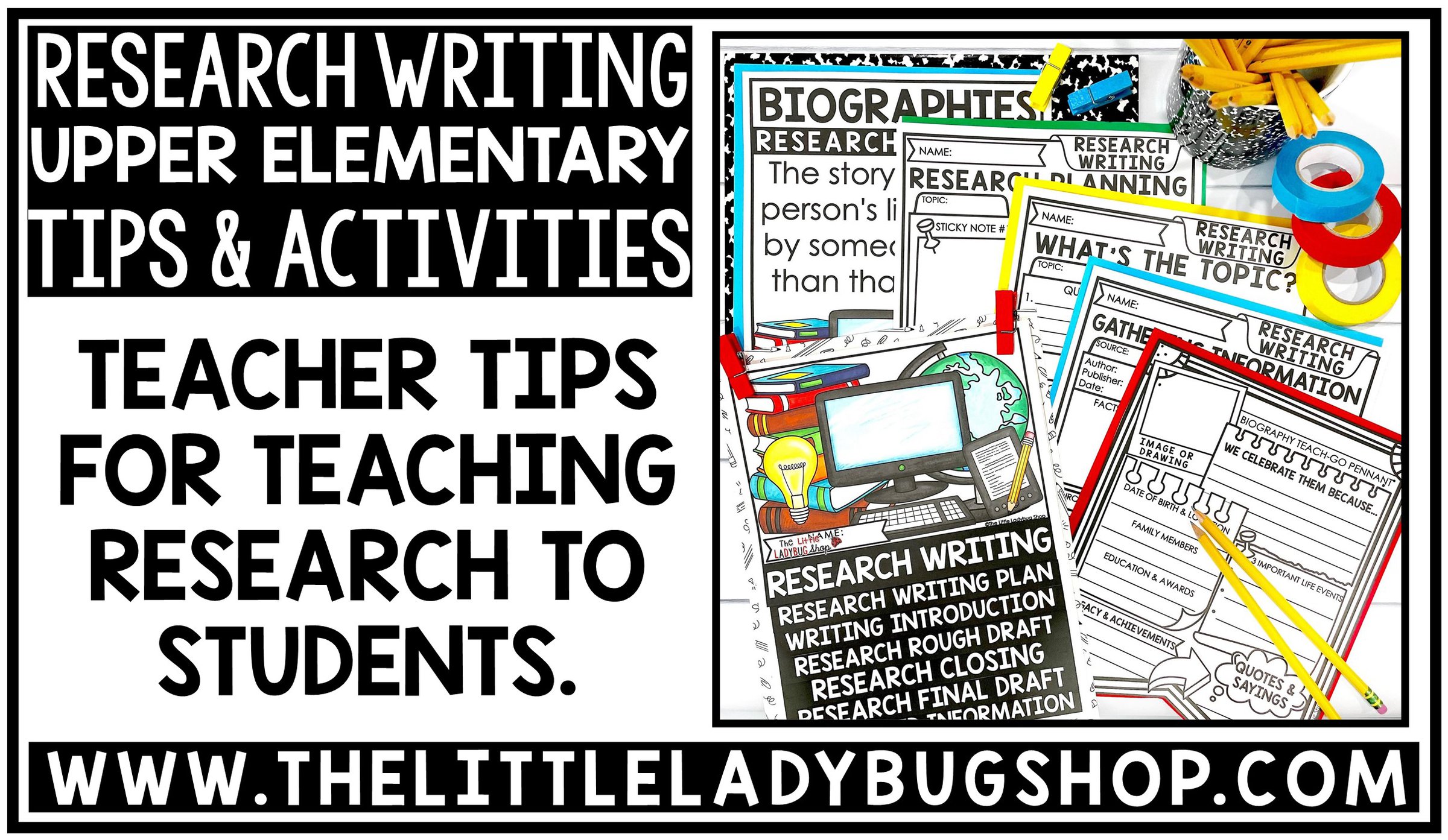 Here are some Teaching Research Writing Resources for your classroom
I have put together some helpful resources for you to use in your classroom today and also some information to help you understand the importance of research in your classroom. As a teacher I was always scared of tackling research. It seems like a lot to teach students but is so worth it after they understand it. I put together this research packet and other resources to help students understand the research process.
Research Writing Unit includes: anchor charts with definitions [perfect for writing notebooks], picking a topic, research planning, gathering information from cited resources, planning, rough drafting, and publishing. This is perfect for any type of research writing.
Research Teach-Go Pennants™– many teachers love using my research pennants because they allow students to gather information on a certain topic and helps them publish their writing. Some of the most popular topics include: Black History Month Influential Leaders, Holidays Around the World, Insects, Inventors, Animals, Planets, Presidents, and so much more! These are not only fun and educational but teachers love displaying these on bulletin boards.
Digital Research Writing– Many teachers and schools have began using google resources and research writing is a top resource. I created my Digital Teach- Go Pennants™ templates for it to be easy for the teacher to use. You can read more about starting a Digital Classroom here. To see some of my digital resources you can visit here.
Some books I love recommending for research writing are included in this post: Favorite Biographies and More.
Check out my Teach-Go Pennants to Help your Research in your Classroom, here are a few…
Teaching Research teaches curiosity and questioning skills.
The first step in research is to develop a question. This may be a question you provide for them.  For example, "How did George Washington affect American History?" As they get practice with low risk projects that you set up for them, they may start to develop their own questions. Have students focus on open-ended questions that have multiple answers. If two students have the same question, their answers could be presented differently. Questions should not be answered with yes, no, or one or two answers. Teaching questioning skills allows students to extend what they're reading beyond the first depth of knowledge level of recall or reproduction.
Research teaches note taking skills.
I am not one to tell my students that there is only one way to take notes. However, when students start learning research writing, I'll present them with a few different ways to organize information from their sources. Two-column or Cornell notes are a popular way to take notes on topics or questions in an easy to read format. Some students find it beneficial to draw pictures or write sketchnotes. Others prefer traditional outline formats such as the Teach-Go Pennants. Teaching note taking skills will help your students develop important skills for information retention and organization.
Research teaches how to paraphrase and not plagiarize.
Students must understand that information they gain from another source must be cited. It is important to paraphrase. Even when the words are original; credit must be given to the source. With tools like EasyBib, Noodletools, and citation tools built into word processing and Google programs, citing sources has never been easier!
Research teaches communication through the written word.
Presenting ideas through writing can be quite challenging. Teaching upper elementary students how to organize their research findings will help them in their writing throughout different modes. Starting with expository, research-based writing in upper elementary grades can help students work through the writing process from prewriting to publication.
Teaching research writing for upper elementary is evident as we look at the standards and objectives. Our students are expected to meet in English/Language Arts through writing and reading. These skills can be transferred and used across the curriculum. Focus on these important skills, and your students will be ready to research!
Make sure to Pin and Save this Post for Future Reference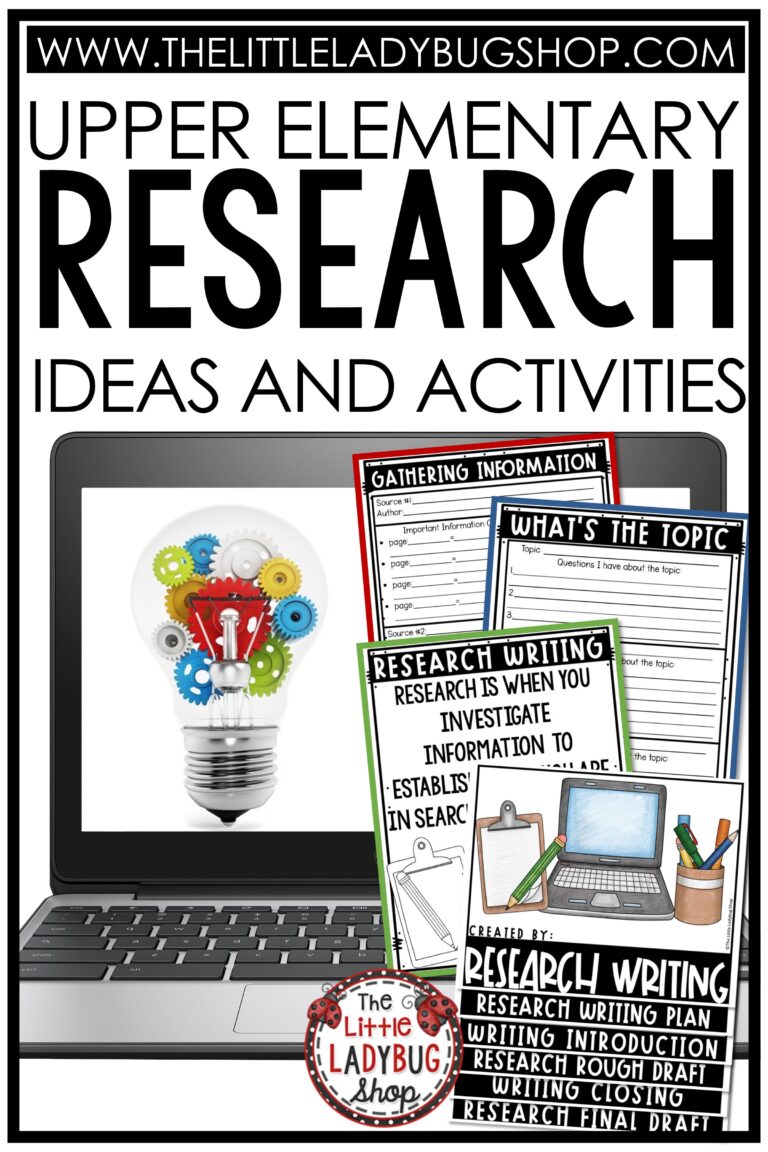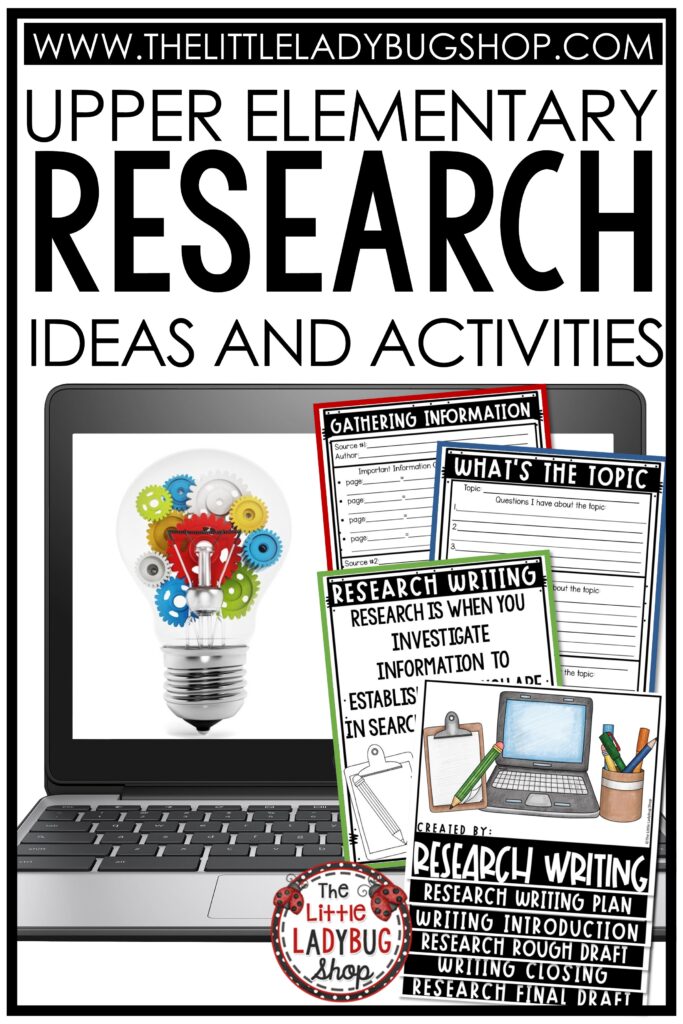 This post may contain affiliate links for your convenience. View our full disclosure policy here.