Why is it important to teach your students how to write strong intros and conclusions in their writing? Let's think about it for a minute. Have you ever picked up a story from a student and known exactly how it would turn out after reading the first line? Each sentence was predictable. There was no spark and no excitement. This is not uncommon, as all students need help developing their writing skills. In particular, this student needs help with writing strong intros! 
It can be easy to overlook the importance of teaching your students to write strong intros and conclusions. After all, why not focus on the meat of the writing, where they develop the story and make their points? However, no piece of writing is complete without a strong introduction and conclusion.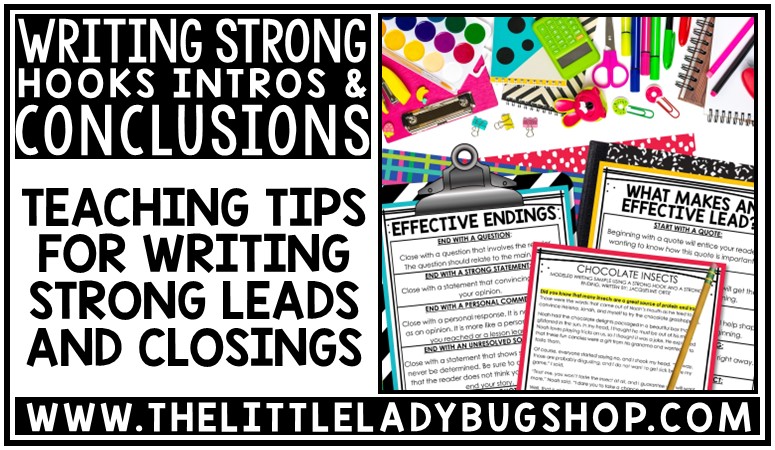 LET'S TAKE A LOOK AT WHY THESE WRITING SKILLS ARE IMPORTANT
Kids Get Stuck on Writing Strong Intros and Conclusions
Staring at a blank page, waiting for inspiration can happen to writers of all ages. However, it can be especially intimidating for kids. This often happens because kids aren't sure how to get started! However, with some coaching kids can learn how to write interesting introductions that will set up their whole essay or story for success!
The same is true for conclusions. Students may simply cut off their writing abruptly, without providing closure to the reader. Or, they may agonize over how to write the conclusion. By teaching students how to write conclusions, we can eliminate the "I'm stuck!" feeling. 
They're the Most Important Parts of Any Piece of Writing
Without an intriguing introduction, students can't write stories and essays that grab the reader's attention. A good introduction also sets the stage, preparing the reader for the rest of the story or essay. As a result, the introduction is one of the most important parts of any piece of writing. 
In a similar way, the conclusion is also key! The conclusion helps highlight the important points of the story or essay. It's also the last thing the reader will remember about what they read. So, it's important to make sure the conclusion ends on a strong point. 
The introduction and conclusion are the most important parts of any piece of writing! So, students need a lot of help to develop skills in writing them. 
They're Skills They Can Use for Life
Whether or not the students in your class grow into bestselling authors, writing strong introductions and conclusions are important life skills. Students will continue to use these skills in their academic careers. They may also use the same skills as professionals. So, it's worthwhile to spend some time helping children develop these writing skills.
HOW TO TEACH STUDENTS TO WRITE STRONG INTROS AND CONCLUSIONS
When it comes to teaching hooks and introductions, I love to teach by example. I often offer students a variety of different hook types like:
A quote

A question

An interesting fact

An idiom

And more!
When students practice using these types of hooks, it can help them create a strong introduction. 
In addition, I try to provide my students with checklists for writing strong introductions and conclusions. These checklists or anchor charts can help students make sure that they're on the right track while they're writing. 
Are you looking for an easy way to teach writing introductions and conclusions? I have put together some of my favorite tools on teaching these areas of writing together into a resource called Expository & Narrative Writing Conclusions, Leads, Hooks Introduction Paragraphs. In the resource, you'll find anchor charts on many different types of hooks and leads, checklists for writing strong conclusions and introductions, activities for student notebooks, and opportunities for student practice.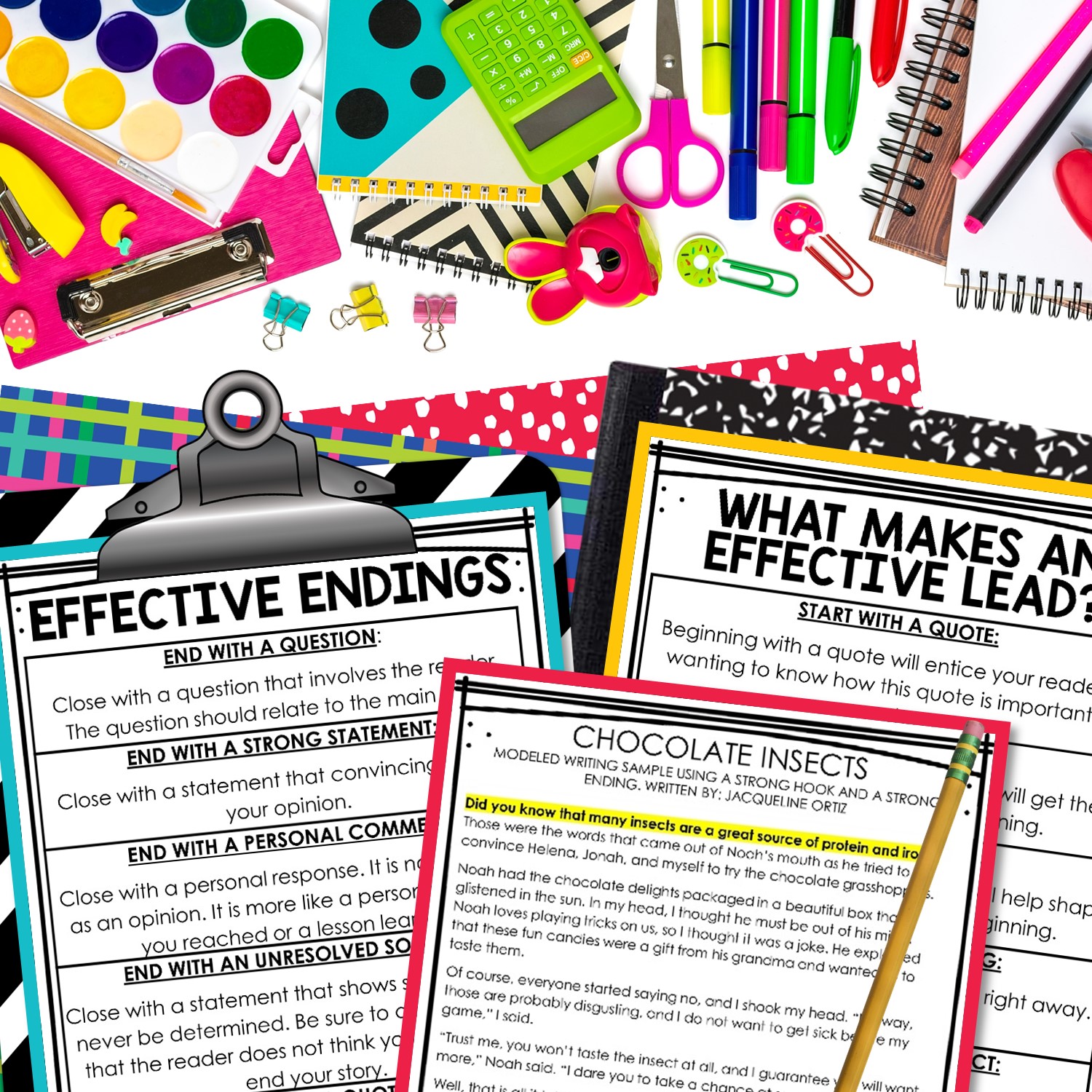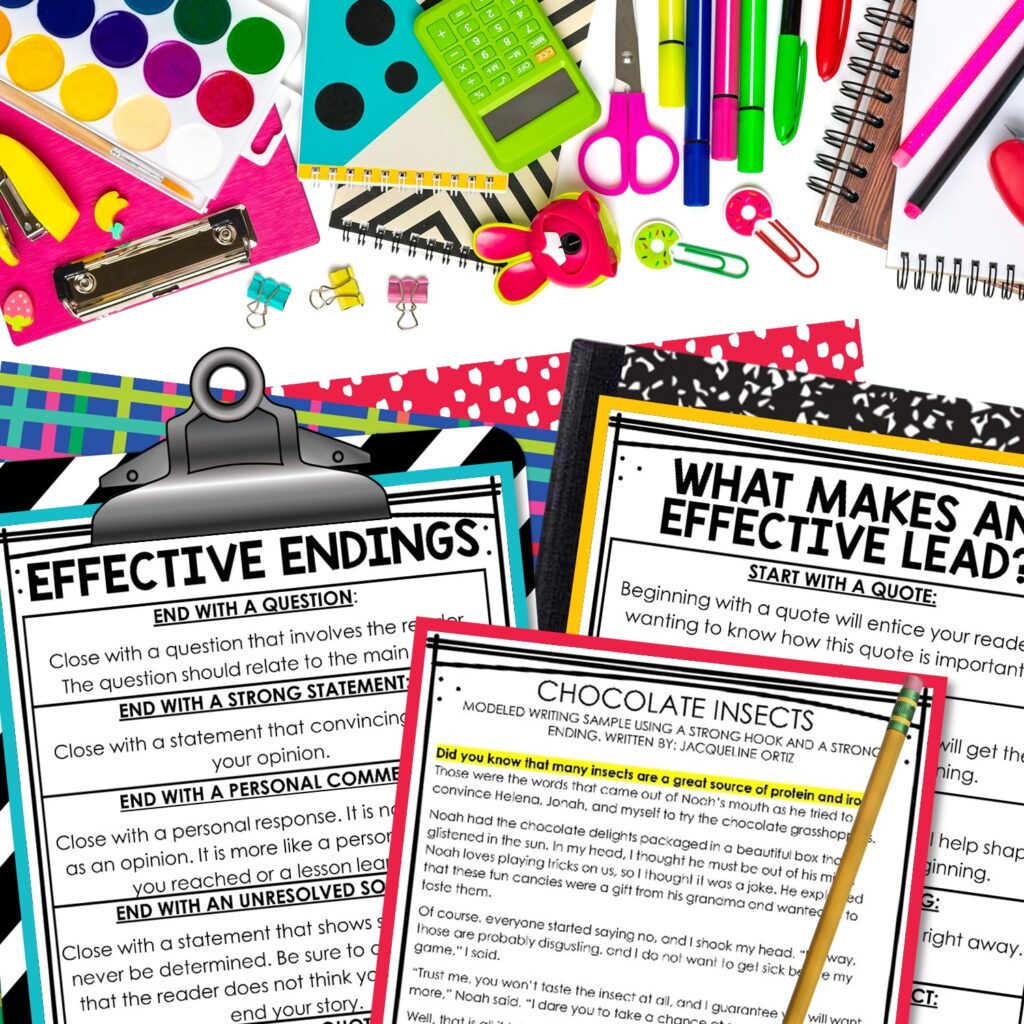 TAKE A PEEK AT THESE MENTOR TEXTS FOR STRONG INTROS AND CONCLUSIONS
Do you have a special way of teaching writing introductions and conclusions? Tell me about your ideas! Get in touch with me on Instagram or send me an email at thelittleladybugshop, I would love to hear from you!
DON'T FORGET TO SAVE THIS POST FOR FUTURE REFERENCE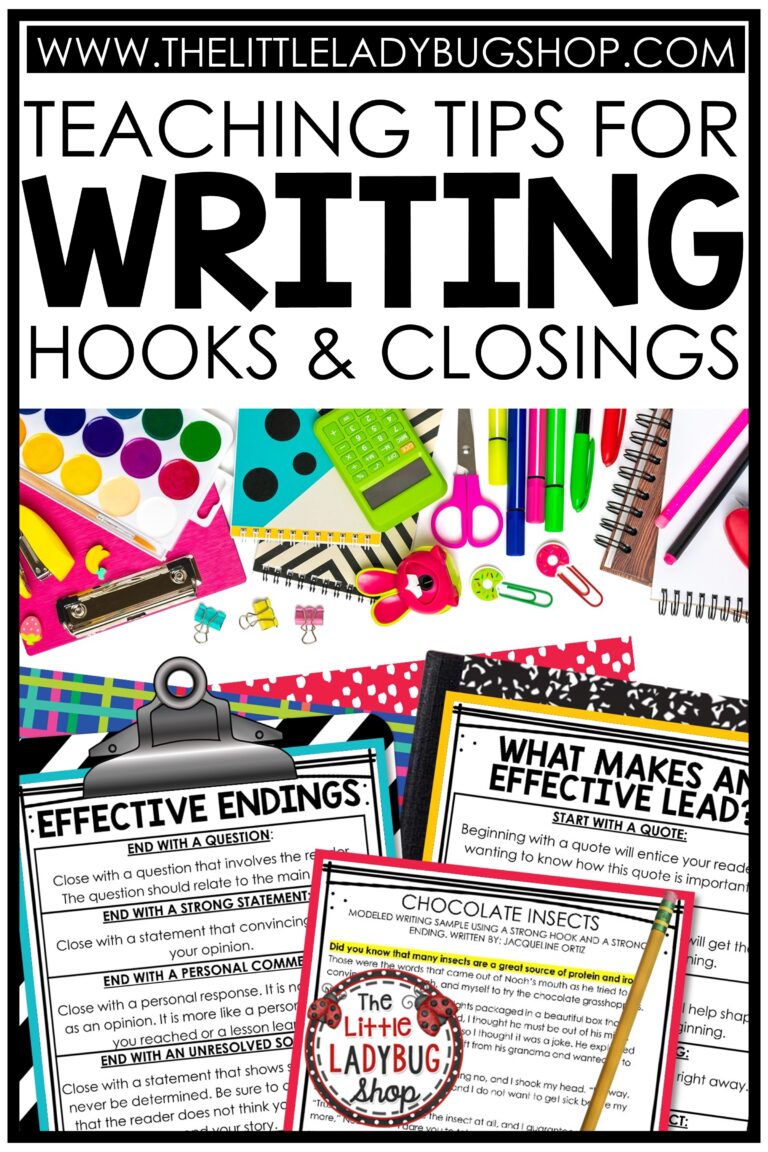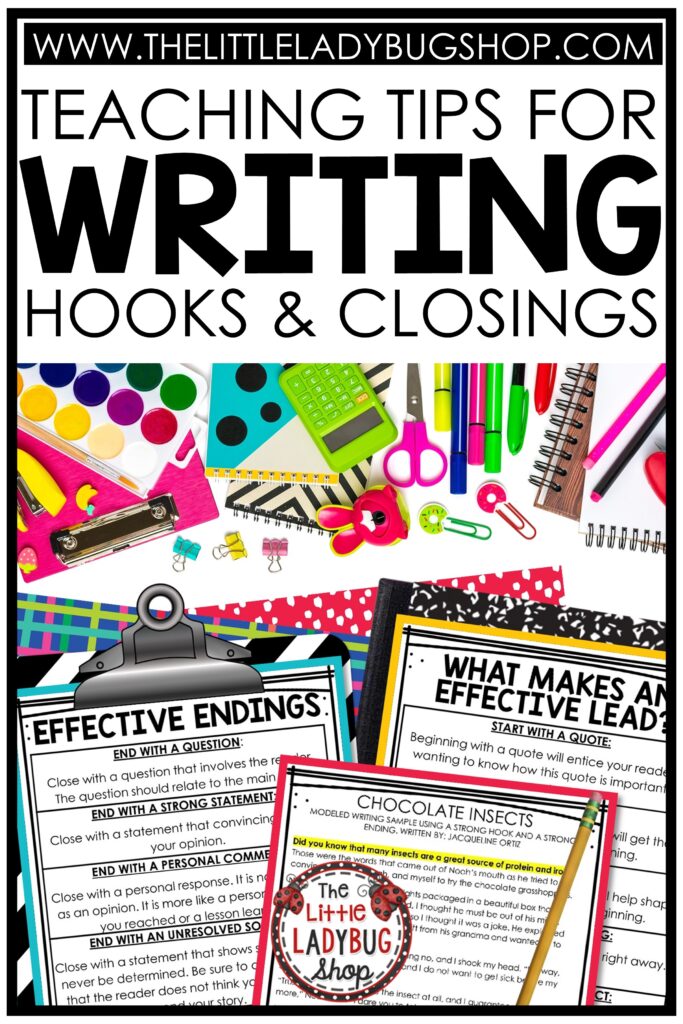 This post may contain affiliate links for your convenience. View our full disclosure policy here.